Food Coop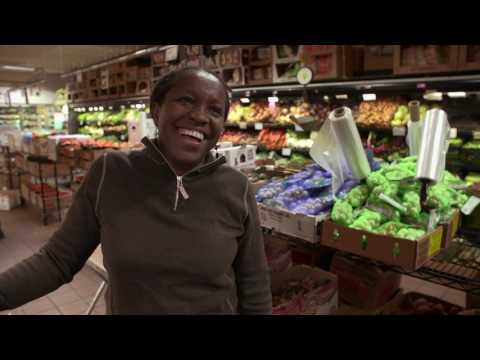 Official film description
In the middle of an economic crisis, in the shadow of Wall Street, an institution that represents a less well-known American tradition is booming. The Park Slope Food Coop: a cooperative supermarket where all 16,000 members work 3 hours per months to earn the right to buy the best food in New York at incredibly low prices. The success of this cooperative is a bad news for capitalism and aggro-alimentary business, and an opportunity to change the food production and distribution systems. We will see what has become of the Park Slope Food Coop, now a well-rooted institution in the heart of Brooklyn: the way it functions, its hundreds of rules, the diversity and eccentricity of its members. We'll see how the culture that has been created at the coop gives its members daily visceral lessons in democracy, how this could represent a potential change in mentality for Americans faced with increasingly difficult economic times.
Notes on the film
Fascinating and inspiring film about a barely known aspect of New York city culture.
Rating from our film jury
"Food Coop" has caused a divided, tendentially negative, echo from our film jury. Both content and technical aspects are criticized. "Food Coop" does not go into the background, connections and current dynamics enough. There is no explicit reference to sustainability. From a technical point of view, the film lacks tension and is rather unprofessional in style. Nevertheless, the jury agrees that the film in principle creates a positive vision for our social coexistence. In addition, cooperative models are important options for sustainable - and affordable - care. Thus "Food Coop" can be an interesting inspiration for food security in cities, packaging-free shops, vegetable cooperatives and purchasing groups.
Further reviews
The Film that makes supermarkets – El Pais
An amusing and elightening foodie exposé. – The Hollywood Reporter
Exhilarating from the first to the last shot. – Telerama
Dozens of self-managed supermarkets under construction in mid-sized towns. – Le Monde
Food Coop: a kaleidoscope film for a food cooperative – Le Monde
Technical information and screening rights...
Director(s):
Thomas Boothe, Maellanne Bonnicel
Script:
Thomas Boothe
Production:
Cécilia Cherel, Christian Pfohl
Year:
2016
Duration:
97 min
Language (audio):
English
Language (subtitles):
French
Country of origin:
France, United States
Shooting Locations:
United States
Our age recommendation:
12
Screening rights:
Bullfrog Films ()
More information...
Rating
Contents
Entertainment value
Scientific & journalistic quality
Transfer of a momentum
Picture, music, craftsmanship
---