The Empire of Red Gold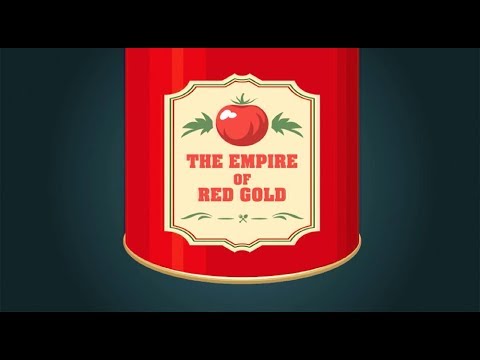 Official film description
The world's most consumed fruit has an untold story. The industrialization of the humble tomato preceded the globalized economy that was to follow. It is now as much of a commodity as wheat, rice, or petrol. The tomato's ability to create strongly identifiable products, such as ketchup, pizza sauce, soups, sauces, drinks or frozen dishes is unbeatable.
As early as 1897, ten years before Ford started to mass produce cars, Heinz was already converting tomatoes into standardized cans of puree. They were one of the first companies to understand the power of branding. They banned unions, imposed uniform standards of production and established genetic laboratories that ensured identical tomato plantations all around the world.
Today, wherever you are in the world, you can eat the same tomatoes. This film will trace the journey of tomato paste from Africa, Italy, China and America to show the consequences of this global business.
Notes on the film
This film has several versions: English with german or italien subtitles (54 mins) and French (70 mins). Under the title "Rotes Gold - das Geheimnisse der Tomatenindustrie" an additional 45 minutes, german dubbed TV version of 3SAT exists.
This film is peppy, insightful, fitting, and very surprising on the theme of Global Food. However, explicit things are missing on ecology, so we list it under more movies.
Rating from our film jury
The film presents novel and interesting views on the global production of tomatoes but is lacking in presentation of positive examples of solutions on this issue. The film does not focus on the beauty of nature but rather covers man's dominion on one particular plant. It is relevant to the discussion of agriculture and globalization.
The facts in the film are presented objectively and to an extent this film presents contrasting and comprehensive perspectives. The line of argumentation is supported with easy to grasp figures. The film rouses a sense of responsibility towards the self and others and awakens an appreciation for other living beings.
The film is intellectually stimulating and the viewer has a clear understanding of the development of the arguments. The footage is appropriate to the subject matter and this film has some unique scenes. The camera work and cut is above average and the music is good.
Technical information and screening rights...
Director(s):
Jean-Baptiste Malet, Xavier Deleu
Production:
Little Big Story
Actors:
Liu Yu, Wang Bo, Yu Tianchi, Quentin Skrabec, Silvestro Pieracci, Marc Grossman, Chris Rufer, Ma Zhenyong
Year:
2017
Duration:
54 min
Our age recommendation:
16
Language (audio):
French, English
Language (subtitles):
German
Country of origin:
France
Shooting Locations:
Canada, France, China, Italy, United States, Ghana
Screening rights:
Filme für die Erde (Switzerland, Germany, Austria, Liechtenstein)
More information...
Links & documents
Attachements
Availability...
You can also view it for a fee at:
Further reviews
Prix Tournesol du Documentaire Vert – Festival du Film Vert 2018
Grand Prix - Prize of the Government of the Slovak Republic – Ekotop EnviroFilm Festival 2018
Rating
Overall rating
Contents
Entertainment value
Scientific & journalistic quality
Transfer of a momentum
Picture, music, craftsmanship
---