The Island President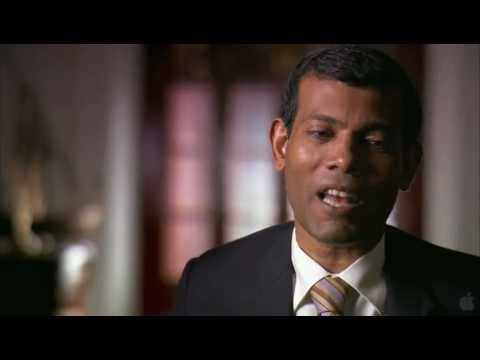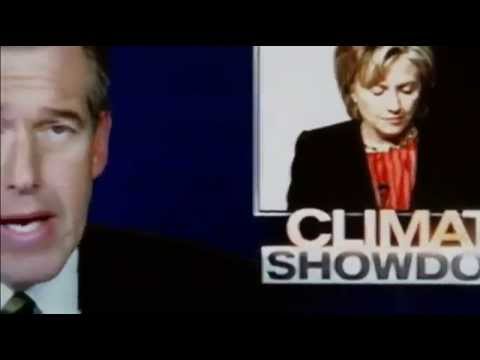 Official film description
A film about one man's mission to save his nation and perhaps the planet, "The Island President" by Jon Shenk is the story of Mohamed Nasheed. The man who brought democracy to the Maldives after thirty years of despotic rule, now faces the greatest challenge of any political leader. The literal survival of his nation, his people and his territory. As one of the most low-lying nations of the world, a rise in sea level of just 3 feet would submerge the 1,200 islands of the Maldives and render them uninhabitable.
The film follows his first year in office, culminating in his trip to the Copenhagen Climate Conference in 2009. Here we glimpse a rare insight to the highest level of political horse-trading that occurs at such international summits. Nasheed reveals his strategy with unusual openness: leveraging the understated position of the Maldives as a tool to win the media and its power, and to call for closer ties with other developing countries to overcome blockades. When the hope of a common written agreement fades, Nasheed holds a poignant speech that leads to an settlement. Despite the modest size of his state, Mohamed Nasheed has become one of the leading international voices in the urgent fight against climate change.
A classic David and Goliath tale, "The Island President" captures Nasheed's battle to stop global warming - to save his country.
Notes on the film
Mohamed Nasheed stepped down as president of the Maldives on 7 February 2012. By his own account, he was under the threat of violence and was therefore forced to resign. (The opposition around the current president, Mohammed Waheed Hassan, denies these claims.) The country has been shaken by political unrest ever since.
"The Island President" is suitable for screenings at major events and campaigns and as a 'sharing DVD' to be passed on to family and friends. It can also be used for teaching at secondary school level or above. In this case, certain aspects need to be discussed and explained before and after the screening because the film presupposes a basic understanding of many technical terms is required.
Rating from our film jury
Selected for Filme Für Die Erde Festival 2014.
An intelligent film that is easy to watch and very well made. It shows the direct consequences that climate change can have on the fundamental existence of a whole country and its population. The procedures before, during and after the Copenhagen Climate Change Conference are documented in an exemplary fashion. Well worth seeing!
Even though the causes of climate change are not explained explicitly, "The Island President" conveys the related problems and their urgency clearly. Since the Maldives are a popular holiday destination among Europeans, we are able to see a certain connection to our own lives. Possible solutions, particularly on the national level, are presented.
Even though the topic of the film is approached from a systemic perspective and the film presents the human impact on planet earth very effectively, it wouldn't have hurt to include some well-founded knowledge and facts. The scientific value is rather low, as current knowledge is barely relativised or questioned.
The film has a strong emotional impact. It arouses empathy and responsibility, and the global perspective conveys a sense of collective awareness.
From the cinematographic point of view, "The Island President" is a professional and successful production – in this respect, it is perfect!
Further reviews
It's fascinating to be so close to a then-sitting head of state as he negotiates for his homeland's survival, and the news that Nasheed was recently deposed in a coup by Gayoom loyalists makes the hard-won victories he did secure all the more poignant. – Keith Uhlich, Time Out New York
A portrait of defiant optimism as a last-chance means of survival, Jon Shenk's 'The Island President' offers not only a Mandela-like tale of political heroism but a much-needed perspective on climate change. – John DeFore, Hollywood Reporter
'The Island President' personalizes the threat of global warming, and nationalizes it too, by focusing on Mohamed Nasheed, the former president of the Maldives. – Joe Morgenstern, Wall Street Journal
Nasheed is indeed inspirational, a cool-headed but passionate and courageous guy. You end up wishing a lot more leaders were like this guy. – Tom Long, Detroit News
Technical information and screening rights...
Director(s):
Jon Shenk
Script:
Pedro Kos
Production:
Richard Berge, Bonni Cohen, ITVS, Actual Films, Afterimage Public Media
Music:
Doug Bernheim
Actors:
Mohamed Nasheed
Year:
2012
Duration:
101 min
Picture format:
16:9
Language (audio):
English
Language (subtitles):
German
Country of origin:
United States
Shooting Locations:
Denmark, India, United States, United Kingdom, Maldives
Our age recommendation:
14
More information...
Links & documents
Attachements
Availability...
This film can be watched for free at the top.
You can also view it for a fee at:
Rating
Contents
Entertainment value
Scientific & journalistic quality
Transfer of a momentum
Picture, music, craftsmanship
---