Recipes for Disaster
A family on an oil diet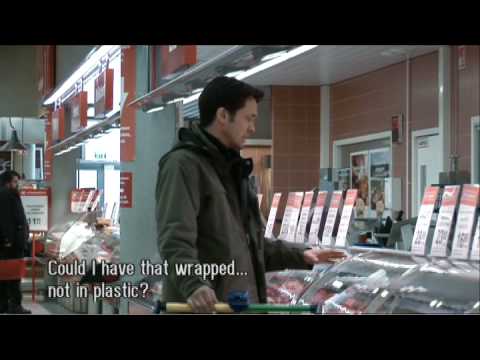 Official film description
Director John Webster convinces his wife and two small children that the whole family should go on an oil diet, yet without having to give up their a middle class suburban lifestyle. All the everyday things that we don't do, or that we can't help doing, make up recipes for disaster.
The simple buying of bathroom products like toilet paper and tooth paste becomes a gauntlet, even Corn Flakes with it's free plastic toy presents a challenge. In this comedy of errors they find themselves questioning their values and putting to test their will power and ultimately, their happiness.
Notes on the film
"Recipes for Disaster" is a film focussing on the human rather than technological aspects of climate change, which is both stimulating and entertaining.
While John Webster is often no longer able to see the wood for the trees, or plastic, his wife remains sceptical. Troubles between the family members become common practice. Their carbon balance at the end of the year shows huge oil savings by changing means of transportation, while other measures were far less relevant and in the end not worth the discussions. The film also touches the interpersonal level: John's wife finally tells about their experiment at work and even makes her colleague envious. One is amazed. Another unique feature is the systematic walk through modern myth: the faster, the freer?!
This documentary is suited for events on the topics of climate, 2000 Watt Society and mobility.
A refreshing but rather unknown documental comedy found under the following film titles: "Recipes for Disaster" (English-speaking area), Anleitung zur Katastrophe" (Arte, German-speaking area), "Kein Öl mehr" (ORF, German-speaking area) or "Katastrofin aineksia" (Finland).
Rating from our film jury
"Recipes for Disaster" is an intelligent documentary well suited for upper school students (secondary level, high school, professional school) and families. The film is well understandable and communicates many relations and effects of human actions on the environment and shows the human side of moving towards greater sustainability in daily life. This gives relevance to the film, is stimulating and touching. "Recipes for Disaster" teaches responsibility and creates a personal connection to a greater whole thereby clearly transferring a will to act.
Despite John Webster's personal involvement the film offers excellent objectiveness and neutrality and genuine description of various perspectives on the topic. The family intentionally jump in at the deep end, fully unprepared for this personal experiment. Their oil saving attempts are therefore not to be seen as scientific accuracy, the message is more on the conscious handling of matter and its consequences: taking initiatives, eagerness to experiment, convincing and sympathy, fear and shame of the opinion of others, insight, frustration, blockades and success, personal happiness and renunciation.
The focus of the film project does not lie on image and sound quality, cut, camera work and film music, which are not outstanding.
"Recipes for Disaster" is a film full of attempts, simple wisdoms and learning situations making a strong reference to one's own world.
Technical information and screening rights...
Director(s):
John Webster
Script:
John Webster
Production:
Millennium Film, JW Documentaries, Kristiina Pervilä
Year:
2008
Duration:
85 min
Picture format:
16:9
Our age recommendation:
12
Language (audio):
English, Finnish
Language (subtitles):
German, French, English
Country of origin:
Finland
Shooting Locations:
Finland
Screening rights:
Deckert Distribution ()
Further reviews
An original form among ecological documentaries... excellent... this adventure speaks to each of us! – DOX Magazine
Engrossing and often amusing... The film not only investigates how our daily routine affects global warming, it also paints a candid portrait of an exceptional family dynamic. – Eye Weekly.com
At turns funny and insightful, this is a fresh take on ecological problems, solutions, and individual responsibility. – Candace Smith, Booklist Online
Rating
Overall rating
Contents
Entertainment value
Scientific & journalistic quality
Transfer of a momentum
Picture, music, craftsmanship
---