The Power of Community
How Cuba Survived Peak Oil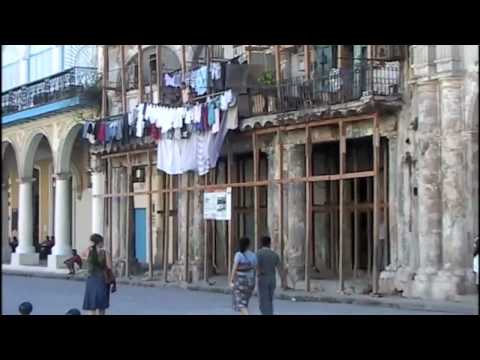 Official film description
When the Soviet Union collapsed in 1990, Cuba's economy went into a tailspin. With imports of oil cut by more than half and food imports cut by 80 percent, people were desperate. This fascinating and empowering film shows how communities pulled together, created solutions, and ultimately thrived in spite of their decreased dependence on imported energy.
In the context of global Peak Oil worries, Cuba is an inspiring vision of hope.
The Community Solution is a nonprofit organization that designs and teaches low-energy solutions to the current unsustainable, fossil fuel–based, industrialized, and centralized way of living.
Notes on the film
"The Power of Community" first explains the peak oil phenomenon and then presents many possible solutions to its challenges, solutions that are sometimes forgotten in the midst of all our ingenious ideas and feasibility scenarios. Entertaining but also demanding, the film shows the effects an oil shortage has on various social aspects, such as nutrition, mobility, housing and the education system. It demonstrates the power of local value creation cycles and multi-generational initiative and shows that they could bring about a change to a low-energy society. The film gets to the heart of the matter when it states "it's not technology, it's human relationships", thus implying that, first of all, we need a change in mindset.
"The Power of Community" provokes interesting discussions and is suitable for events, for educational institutions such as high schools or universities and for educated multipliers. The film is also suitable for private use on a 'sharing' DVD basis, i.e. after watching it, viewers should pass the DVD on to family and friends.
Rating from our film jury
Selected as lead film at the Films for the Earth Festival 2011.
"The Power of Community" flows well and presents an intelligent, moving view of interconnections and facts. Good journalism, high-quality documentation and very good interviews also shed light on some rarely addressed topics.
The film is full of empirical examples that point to a positive vision, but it lacks the systemic, planetary or spiritual perspective found in other films. Still, it shows the connection between our way of life and happiness, existence and fulfillment, addresses the question of responsibility and, in this way, encourages us to get actively involved.
Regarding the cinematography, the aesthetic quality, images, editing, sound, camera work and soundtrack are okay. The film's logical structure is transparent, as is the relation between the images and the content.
Technical information and screening rights...
Director(s):
Faith Morgan
Script:
Faith Morgan, Megan Quinn Bachman, Eugene Pat Murphy
Production:
Faith Morgan, Communitiy Solutions
Year:
2006
Duration:
53 min
Our age recommendation:
16
Language (audio):
English
Language (subtitles):
German, French, English, Spanish, Portuguese, Dutch, Mandarin, Danish
Country of origin:
United States, Cuba
Shooting Locations:
Cuba
Screening rights:
Community Solutions ()
Availability...
Buy DVD
This film can be watched for free at the top.
This film may be shown free of charge for non-profit purposes.
Further reviews
...the best short history of Peak Oil that I have seen anywhere! – Marc Franke
Everyone who is concerned about Peak Oil needs to see this film. Cuba survived an energy famine during the 1990s, and how it did so constitutes one of the most important and hopeful stories of the past few decades. It is a story not just of individual achievement, but of the collective mobilization of an entire society to meet an enormous challenge. – Richard Heinberg, Autor von "The Party's Over", "Powerdown", und "The Oil Depletion Protocol"*
Rating
Overall rating
Contents
Entertainment value
Scientific & journalistic quality
Transfer of a momentum
Picture, music, craftsmanship
---