A Road Not Taken
The story of the Jimmy Carter White House Solar Installation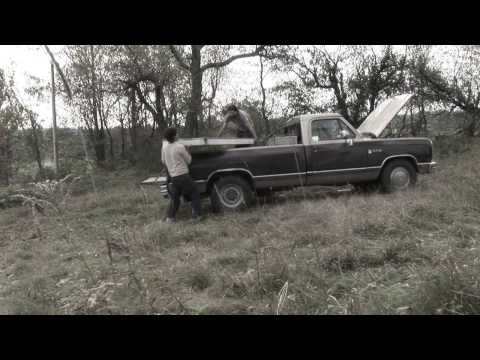 Official film description
In 1979, Jimmy Carter, in a visionary move, installed solar panels on the roof of the White House. This symbolic installation was taken down in 1986 during the Reagan presidency. In 1991, Unity College, an environmentally-minded centre of learning in Maine acquired the panels and later installed them on their cafeteria roof.
In "A Road not Taken", Swiss artists Christina Hemauer and Roman Keller travel back in time and, following the route the solar panels took, interview those involved in the decisions regarding these panels as well as those involved in the oil crisis of the time. They also look closely at the way this initial installation presaged our own era.
This DVD/Book publication contains the film on DVD with subtitles in six languages (German, French, Italian, Spanish, Chinese and English) and a 24-minute bonus track.
The 24 minutes of additional bonus footage covers what happened between 1986 and now. The hardcover book the size of a DVD case includes 64 pages in color, mostly unpublished pictures and facsimiles which document the story of the Jimmy Carter White House solar installation. A timeline describes the events around the solar panels since 1972. Detailed captions provide a deeper insight into the "Road not Taken".
Notes on the film
"A Road Not Taken" is more of a time document and an art project than an environmental documentary, which spreads knowledge.
Nevertheless, the film is a reflection of the exemplary commitment of two Swiss artists, which even led to an interview with Jimmy Carter. It is touching to watch young enthusiastic students in the 70s installing solar collectors, enthusiastically calling out the solar age and to see them 40 years later in interviews, greyed and in a world that is still dangerous depend on oil. "A Road Not Taken" subtly shows the powerful impact of societal attitudes on our future.
The film is not suitable for primary school and family evening, but is excellent for history lessons and events on the subject.
The DVD includes a 64 page booklet containing contemporary documents and pictures.
Rating from our film jury
"A Road Not Taken" ist intelligent, flüssig, anregend, manchmal in seiner Poesie surrealistisch und mit authentischer Ästethik, was ihn undogmatisch macht. The documentation is factual, the research and the interviews good. Much of it has never been shown.
"A Road Not Taken" is emotionally touching, addresses responsibility and transfers a will to act. It offers a reference to one's own life, shows relevance from a global perspective and better ways - although not very explicit, which was not the intention either.
The images used have a good reference. Good cut, camera work ok, good music, insightful logic of the movie, although sometimes a bit lengthy.
A remarkable realization of a simple idea, which also shows the creative commitment of two Swiss artists on the subject of climate / energy.
Technical information and screening rights...
Director(s):
Christina Hemauer, Roman Keller
Script:
Christina Hemauer, Roman Keller
Production:
Christina Hemauer, Roman Keller
Music:
Mathias Vetter
Actors:
Jimmy Carter
Year:
2010
Duration:
66 min
Picture format:
16:9
Our age recommendation:
12
Language (audio):
English
Language (subtitles):
German, French, English, Chinese, Italian, Spanish
Country of origin:
Switzerland
Shooting Locations:
United States
Screening rights:
Atelier Hemauer | Keller (Switzerland)
More information...
Links & documents
Attachements
Availability...
Buy DVD
You can also view it for a fee at:
Further reviews
From the wondrous history of these solar collectors became a miraculous film. – Tagesanzeiger
"A Road Not Taken" is a documentary road movie based on a wonderful idea that leads through the history of American energy policy. – Isabel Bures, Art-Tv
A special kind of road movie. – Charles Martig, Katholischer Mediendienst
A cinematic installation. – WOZ
Rating
Overall rating
Contents
Entertainment value
Scientific & journalistic quality
Transfer of a momentum
Picture, music, craftsmanship
---