Fracking Patagonia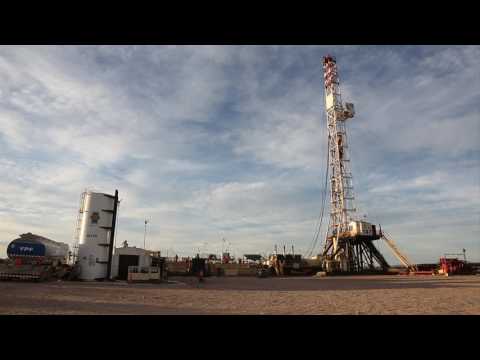 Official film description
France, 2011: Following a very significant civic movement, a bill was passed prohibiting hydraulic fracturing ("fracking") on French territory. This eventually resulted in the repeal of the license of Montelimar, originally granted to Total.
But this corporation is free to go and exploit shale gas and shale oil elsewhere in Europe and around the world. As the second gas operator in Argentina, and before any other large multinationals, Total acquired unconventional gas permits in the province of Neuquén in Patagonia, including one within a protected area. The Vaca Muerta basin, which covers over 30,000 km 2, quickly also became the new El Dorado of other oil companies such as Chevron, YPF , Shell, Apache: Argentina is the third largest country in the world in terms of potentially exploitable shale gas and oil reserves.
Local communities, and in particular small farmers members of the Mapuche communities, have already been suffering from the impacts of decades of conventional oil and gas exploitation and are again trapped by foreign corporations and YPF, the re-nationalized State company. The government secured this agreement without a single consultation. Resistance begins.
Notes on the film
Ein kurzer, aber interessanter Film über die Entwicklung von Schiefergasförderung in Patagonien. Er gibt Einblick in die wirtschafts- und konzernfreundliche Regierung, die verschiedenen Ölkonzerne und ihre Ambitionen in Neuquén das vorausgesagte Gaswunder zu erleben. Die indigene Bevölkerung wurde nie informiert und Bohrungen wurden in einem Naturschutzgebiet bewilligt. Der Film gibt auch einen kleinen Einblick in die Fracking Situation in Frankreich und wie die Bevölkerung ein Verbot herbeiführen konnte und in wie fern französische Firmen wie Total Oil, die Sicherheit und Sauberkeit von Fracking nicht in Frage gestellt sieht und ihre Investitionen in Patagonien ausbauen möchte. Der ist für seine Kürze sowohl informative als auch klar in seiner Aussage- eine weitere Kontinent wird ohne Zustimmung Indigener oder der Bevölkerung in wirtschaftlicher Euphorie gefrackt und der Umwelt gelten keinerlei Bedenken.
Technical information and screening rights...
Director(s):
Grégory Lassalle
Production:
Les Amis de la Terre
Music:
Vincent Castagnino, Julian Mourin, Puel Kona, Pierre Mermet
Year:
2014
Duration:
45 min
Our age recommendation:
16
Language (audio):
French, Spanish
Language (subtitles):
French, English, Spanish
Country of origin:
France
Shooting Locations:
France, Argentina
---