Nausicaä of the Valley of the Wind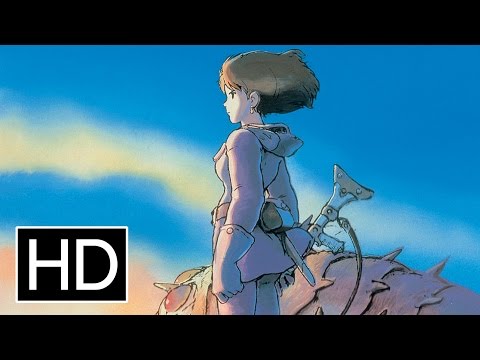 Official film description
From one of the most celebrated filmmakers in the history of animation and the creator of the Academy Award-winning "Spirited Away" (Best Animated Feature Film, 2002) comes Hayao Miyazaki's epic masterpiece "Nausicaa of the Valley of the Wind."
Taking place in a post-apocalyptic world in the far future, the seaside kingdom Valley Of The Wind remains one of last remaining populated settlements. Led by their courageous Princess, Nausicaä, the people of the Valley are engaged in a constant struggle with powerful insects called Ohmu, who guard a poisonous jungle that is spreading across the Earth.
Nausicaä and her brave companions, together with the people of the Valley, strive to restore the bond between humanity and the Earth.
Notes on the film
The film was released in Japan on 11 March 1984, although it was created before Studio Ghibli was founded, the film is considered to be the beginning of the studio and is often included as part of the Studio's works.
Hayao Miyazaki is one of Japan's most beloved animation directors. In 2005 he was awarded the Venice International Film Festival's Golden Lion Award for Lifetime Achievement, and his Studio Ghibli received the festival's Osella Award for overall achievement in 2004. Miyazaki's films include Spirited Away, winner of the 2002 Academy Award® for Best Animated Feature Film, as well as Castle in the Sky, My Neighbor Totoro, Kiki's Delivery Service, Princess Mononoke, Howl's Moving Castle, and Ponyo, all of which have received great acclaim in the U.S. Miyazaki's other achievements include the highly regarded manga series Nausicaä of the Valley of the Wind and Starting Point: 1979-1996, a collection of essays, interviews, and memoirs that chronicle his early career and the development of his theories of animation.
Technical information and screening rights...
Director(s):
Hayao Miyazaki
Script:
Hayao Miyazaki
Production:
Yasuyoshi Tokuma, Michio Kondou
Music:
Haruomi Hosono
Year:
1984
Duration:
116 min
Picture format:
16:9
Our age recommendation:
12
Language (audio):
Japanese, German, English
Language (subtitles):
German
Country of origin:
Japan
Shooting Locations:
Screening rights:
Universum Film (Germany)
Further reviews
Miyazaki's most outright environmentalist effort. – Deep Focus Review
---