Freightened
The Real Price of Shipping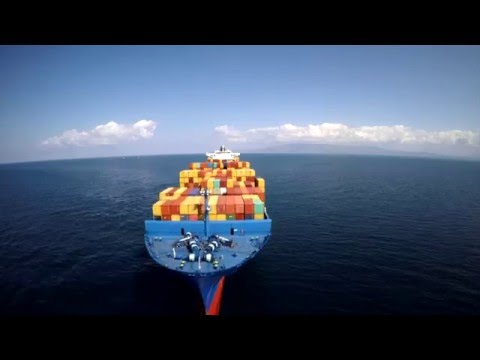 Official film description
Today's postindustrial economies are marked by a heavily declined manufacturing sector. 90% of everything we consume comes from overseas; the sea freight industry controls 95% of all products shipped on the planet. What is the real price of shipping? Who are the key players of this global industry? And overall, what is its impact on our lives and on the environment?
"Freightened" takes us behind the scenes to reveal the mechanics and perils of an all-but-visible industry that holds the key to our economy and the very model of our civilization.
Notes on the film
The strength and potential of the film lies in showing a dimension of global transport, which has never been revealed before to a broad public. It shows various aspects of the topic, such as animal life, noise emissions, working conditions, crime, global laws and regulations as well as the danger of anonymous transport. Therefore "Freightened" strongly inspires to reflect.
Interesting facts: 90% of the consumer goods are shipped. Today the sulfur emission of one cargo ship equals the likes of 50 million cars. 60'000 such ships travel around the globe.
Rating from our film jury
Selected for Films of the Earth Festival 2016.
"Freightened" shows with excellent quality a hitherto little-documented topic of high relevance.
The director convinces in demonstrating holistic connectedness in regard to various perspectives. Thus he is able to establish a reference to the basis of live as well as to ones own life. Besides drawbacks for humans and the environment some improvements are pointed out, too, although limited.
"Freightened" is an intelligent film which, with knowledge and many specific examples, succeeds in showing the impact of mankind on the earth. However, the film stimulates only in a limited way willingness to act or arouse emotions.
Designed in a careful thought-out way with exciting dramaturgy, well selected pictures and remarkable camera work "Freightened" convinces from a film technology point of view.
Technical information and screening rights...
Director(s):
Denis Delestrac
Script:
Denis Delestrac
Production:
Polar Star Films, La Compagnie des Taxi-Brousse, Aljazeera Documentary Channel, SWR, NDR, Carles Brugueras, Laurent Mini, Karim Samaï, Marieke van den Bersselaar
Music:
Cezame Music Agency, Elisabeth Skornik, Guy Skornik
Actors:
Noam Chomsky, Rose George, Razvan Adrianita, Elizabeth Cline, Stephen Cotton, James Corbett, Christian Buchet, Alex MacGillivray, Marc Levinson, Peejay Lopez Catoy, Alisdair Pettigrew, Ivelisse Mincey, Lee Adamson, Eric T. Wiberg, Ketil Ottersen
Year:
2016
Duration:
90 min
Our age recommendation:
14
Language (audio):
German, French, English, Spanish
Country of origin:
France, Spain
Shooting Locations:
United States
Screening rights:
About Premium Content () | éducation21 (Switzerland)
More information...
Links & documents
Attachements
Availability...
This film can be watched for a fee at the top.
You can also view it for a fee at:
Further reviews
Rating
Overall rating
Contents
Entertainment value
Scientific & journalistic quality
Transfer of a momentum
Picture, music, craftsmanship
---