RiverBlue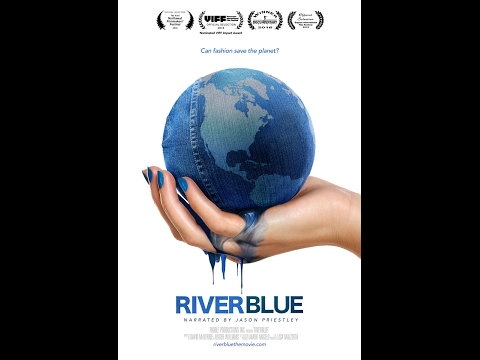 Official film description
Following international river conservationist, Mark Angelo, "RiverBlue" spans the globe to infiltrate one of the world's most pollutive industries, fashion. Narrated by clean water supporter Jason Priestley, this groundbreaking documentary examines the destruction of our rivers, its effect on humanity, and the solutions that inspire hope for a sustainable future.
Through harsh chemical manufacturing processes and the irresponsible disposal of toxic chemical waste, one of our favorite iconic products has destroyed rivers and impacted the lives of people who count on these waterways for their survival. "RiverBlue" brings awareness to the destruction of a some of the world's most vital rivers through the manufacturing of our clothing, but will also act as a demand for significant change in the textile industry from the top fashion brands that can make a difference.
Notes on the film
"RiverBlue" is an excellent film for understanding the impact of the textile industry on the world's fresh water supply. This film differs from "The True Cost" in that it highlights the environmental cost of fashion rather than the human cost of production.
Technical information and screening rights...
Director(s):
Roger Williams, David McIlvride
Script:
David McIlvride
Production:
Paddle Productions
Actors:
Kumi Naidoo, Mark Angelo, Jason Priestley, Orsola De Castro, Ma Jun, François Girbaud, Peter Golding, Lukus Eichmann, Nicole Bridger, Stuart Bunn
Year:
2017
Duration:
95 min
Our age recommendation:
14
Language (audio):
English
Country of origin:
Canada
Shooting Locations:
Canada, China, India, Italy, Australia, Indonesia, United States, Spain, Zimbabwe, Bangladesh
Availability...
This film can be watched for a fee at the top.
You can also view it for a fee at:
Further reviews
after I watched the film I felt incredibly guilty about the contents of my dresser and closet. I vowed to do my research and learn which brands I should be shopping and explore other options such as thrift stores, upcycling, making my own garments or clothing swaps. – Shanna Marie
---