Bananas!*
At any cost?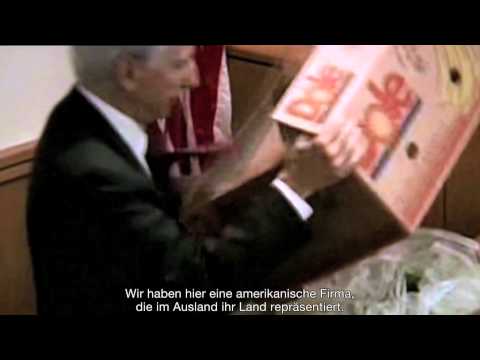 Official film description
Juan "Accidentes" Dominguez is on his biggest case ever. On behalf of twelve Nicaraguan banana workers he is tackling Dole Food in a ground-breaking legal battle for their use of a banned pesticide that was known by the company to cause sterility. Can he beat the giant, or will the corporation get away with it? In the suspenseful documentary "Bananas!*", filmmaker Fredrik Gertten sheds new light on the global politics of food.
Notes on the film
In the 1970s, the problem of sterility in humans was clearly localized and the substance causing sterility "Nemagón" (DBCP/Dibrom-Chlor-propan) was prohibited. Although Nemagón was banned in 1979 in the U.S. due to its negative effects on human health, it was still used until 1985 in some Latin American countries.
According to a Greenpeace study, the amount of chemical residues in food is decreasing, but the amount of multiple chemical residues (several small residues of different pesticides) is increasing. The impact on human health thus becomes even more complex and makes clear evidence increasingly difficult.
Rating from our film jury
An entertaining and quite intelligent film, that stimulates mind and soul. Exciting!
"Bananas!" is based on quite good journalistic research dealing with a current topic. The issue however has been known for a while. The film does not clearly refer to our planet as ecological basis of life. A connection to our everyday lives is conceivable, even though the the film draws no explicit connections. In addition, "Bananas!*" doesn't offer possible solutions.
The film doesn't present scientific facts, but focuses on humans and does not take into account systematic relationships such as the ecological impacts of pesticides. Basically, it is a legal thriller.
"Bananas!*" encourages viewers to stand up for their rights and arouses a sense of responsibility towards ourselves and towards others as well as sympathy with the victims. The inspiring effect however is quite small.
The pictures are rather unaesthetic and repetitive, however, they display the content well. The film contains many old recordings and scenes which is quite disturbing, because no really new material is shown. Camerawork and editing are moderate, the soundtrack quite good.
Technical information and screening rights...
Director(s):
Fredrik Gertten
Production:
Fredrik Gertten, Margarete Jangård, Bart Simpson, Lise Lense-Møller, WG Film AB
Music:
Nathan Larson
Actors:
Juan J. Dominguez, Duane Miller, Rick McKnight, David DeLorenzo, Alberto Rosales, Carmen Rosales, Byron Rosales, Father Bayardo Ocon
Duration:
87 min
Our age recommendation:
16
Language (audio):
German, English, Spanish
Language (subtitles):
German, English
Country of origin:
Sweden
Shooting Locations:
Screening rights:
Autlook Film Sales ()
More information...
Links & documents
Attachements
Further reviews
"Bananas!*" is a shocking, brave and controversial film. – TAZ
As exciting as a fictional film. In the tradition of Erin Brokovich or Michale Moore's: A Love Story." – The Independent
Rating
Overall rating
Contents
Entertainment value
Scientific & journalistic quality
Transfer of a momentum
Picture, music, craftsmanship