A Plastic Ocean
We need a wave of change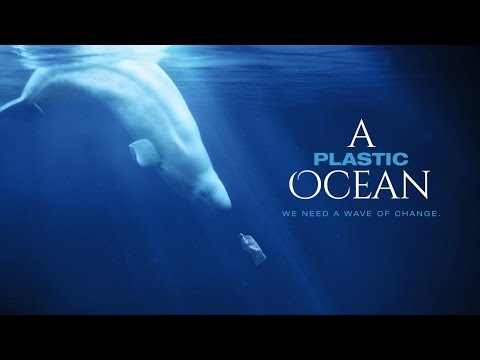 Official film description
"A Plastic Ocean" is a feature-length adventure documentary that brings to light the consequences of our global disposable lifestyle. We thought we could use plastic once and throw it away with negligible impact to humans and animals. That turns out to be untrue.
In "A Plastic Ocean" an international team of adventurers, researchers, and world-saving heroes on an expedition around the globe that delves into the unknown lurking beneath our seemingly pristine and remote waters.
The results will astound viewers–just as it did our adventurers–who captured never-before-seen images of marine life, plastic pollution, and its ultimate consequences for human health.
During its four-year production period, "A Plastic Ocean" was filmed in 20 locations around the world in beautiful and chilling detail to document the global effects of plastic pollution–and introduce workable technology and policy solutions that can, if implemented in time, change things for the better.
Notes on the film
Although the issue of plastic has already been covered in many films, this is one of the most outstanding films in regards to the presentation of science, demonstrating the interrelationships and the variety of good examples. Absolutely recommendable!
Rating from our film jury
"A Plastic Ocean" makes meaningful connections between the issue at hand and one's own life. The interviews are clear and well conducted. The themes in A Plastic Ocean are already well known, nevertheless the film offers well researched journalism and a high documentary quality. This film is very relevant and makes a strong case for life and ecology. The film is articulate, intelligent and mentally very stimulating.
The imparting of facts, information and connections comes through very clear, as does the influence of man on the Earth. The film is appropriate and is filled with many empirical examples.
"A Plastic Ocean" is very emotional because it arouses a sense of responsibility. The film shows the interconnectivity of the individual and the Whole. The film shows how difficult it is to escape this plastic cycle and shows through emotional and impressive images that our use of plastic is a serious problem, not only for the environment, but also for human health around the world.
The film is logically structured and the production is exciting. Some film footage has never been seen before. Cut and music are good.
Further reviews
Best Ocean Film – Blue Ocean Film Festival 2017
Best of Festival – Blue Ocean Film Festival 2017
Best Film-Ocean Environment – Waimea Ocean Film Festival 2017
Best Documentary (Director's Choice) – Sedona International Film Festival 2017
Best Feature – Colorado Environmental Film Festival 2017
Best Environmental Film (Audience Choice) – Sedona International Film Festival 2017
Ocean Impact Award – Barbados Independent Film Festival 2017
A film that explains the problems about plastic ... that message can be spread by a film like this in a remarkable way. – Sir David Attenborough
It is a film that lays bare the astonishing extent of plastic waste killing the previously pristine oceans – and which could ultimately kill us, too. – Daily Mail
A Plastic Ocean – a Film to Open the Eyes of the World. – Enviro Dad
A strong sense that the scale of the human enterprise and the size of our planet have become, for the first time, fundamentally mismatched is pervasive throughout the film. – The Lancet
This is without a doubt one of the most important films of our time and everyone needs to see it. – B24/7
Technical information and screening rights...
Director(s):
Craig Leeson
Script:
Craig Leeson
Production:
Adam Leipzig, Jo Ruxton, Sonjia Norman, Daniel Auerbach
Actors:
Lindsay Porter, Maria Cristina Fossi, Bonnie Monteleone, François Galgani, Jennifer Lavers, Michael Gonsior, Susan Jobling, Sylvia Earle, Tanya Streeter, Mike deGruy
Year:
2016
Duration:
102 min
Picture format:
16:9
Language (audio):
English
Language (subtitles):
German, French, English, Italian
Country of origin:
United States
Shooting Locations:
France, Hong Kong, United States, Antarctic, Philippines, Tuvalu , Sri Lanka
Our age recommendation:
14
Screening rights:
Plastic Oceans Ltd. () | Ananas Film (Switzerland)
More information...
Links & documents
Attachements
Availability...
Rating
Contents
Entertainment value
Scientific & journalistic quality
Transfer of a momentum
Picture, music, craftsmanship
---