Von Bananenbäumen träumen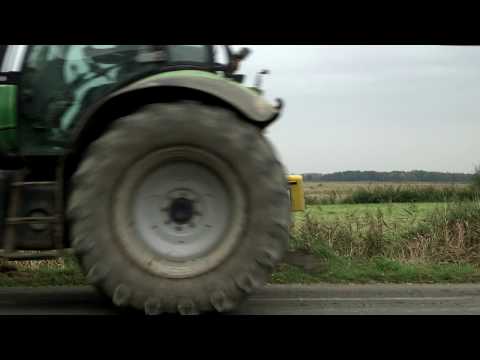 Official film description
Oberndorf, a village on the Elbe estuary. The municipal fund is empty, jobs are scarce, and small farms are abandoned. However, some villagers do not want to accept the threat of decline. Together they open a pub and take on a momentous plan - they want to earn money to save the village. The basis of their business idea is liquid manure, which is abundant here. With the help of project developers from Berlin, they set up a citizen's company and create an extraordinary business model. The raw material from the cow sheds is supposed to provide the energy for the breeding of African catfish and banana trees!
The courageous idea is inspiring more and more people: locals and visitors, adults and children are beginning to dream and roll up their sleeves with a wide view. But then the school threatens to close, and until the first fish arrive, it's a long way to go...
Over a period of three years, filmmaker Antje Hubert tells the story of this small but dynamic movement - carried by very different people who are gradually changing not only their village but also themselves.
"Von Bananenbäumen Träumen" (Dreaming of Banana Trees) is a film whose positive spirit of departure is both inspiring and touching.
Notes on the film
A very poetic film with enchanting music and people who courageously and creatively create new realities. Very inspiring to tackle something new and persevere!
Unfortunately the project was not successful.
Rating from our film jury
"Von Bananenbäumen träumen" delighted our film jury with its inspiring, solution-oriented approach. Although the film focuses more on social aspects, it is also relevant with regard to ecological issues and makes complex relationships - especially when it comes to circular economy - tangible.
The film tells a touching story in an engaging way, but is unfortunately slowed down by a certain lengthiness. There is nothing to criticize about the journalistic performance. The narrative style is balanced and the subject is dealt with comprehensively from different perspectives. "Von Bananenbäumen träumen" is technically well done, but remains a film that you watch primarily because of its content and not its aesthetics.
A special strength of the film is its animating effect on the viewer. By accompanying the process of realizing an ambitious project up close, it conveys a feeling of personal responsibility and encourages action.
Technical information and screening rights...
Director(s):
Antje Hubert
Script:
Antje Hubert
Production:
thede Filmproduktion
Music:
Roland Musolff
Actors:
Jörn Nagel, Sibyll Amthor, Barbara Schubert, Bert Frisch, Marlene Frisch, Christiane Möller, Anne-Kathrin Kuhlemann, Lars Medenwald, Detlef Horeis, Markus Haastert
Year:
2016
Duration:
92 min
Our age recommendation:
16
Language (audio):
German
Country of origin:
Germany
Shooting Locations:
Germany
More information...
Links & documents
Attachements
Further reviews
a film that inspires courage – Hamburger Abendblatt
eine kurzweilige Langzeitbeobachtung in der Provinz – Hamburger Morgenpost
an entertaining and coherent documentary film – Filmdienst
Rating
Overall rating
Contents
Entertainment value
Scientific & journalistic quality
Transfer of a momentum
Picture, music, craftsmanship
---