Taking Root
The Vision of Wangari Maathai: One person can make a difference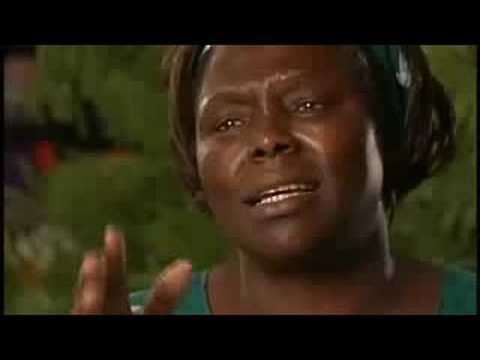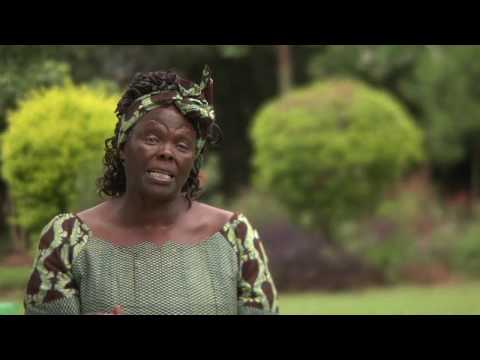 Official film description
"Taking Root" weaves a compelling and dramatic narrative of one woman's personal journey in the context of the turbulent political and environmental history of her country. Raised in the rural highlands of Kenya, and educated in the United States during the 1960s civil rights era, Nobel Peace Prize Laureate Maathai discovered the heart of her life's work by reconnecting with the rural women with whom she had grown up. They told her that their daily lives had become intolerable: they were walking longer distances for firewood, clean water had become scarce, the soil was disappearing from their fields, and their children were suffering from malnutrition. Maathai thought to herself, "Well, why not plant trees?" Trees provide shade, prevent soil erosion, supply firewood and building materials, and produce nutritious fruit to combat malnutrition. With this realization Maathai founded the Green Belt Movement, a grassroots organization encouraging rural women to plant trees.
"Taking Root" documents dramatic confrontations and captures Maathai's infectious determination and unwavering courage. Today there are more than 6,000 Green Belt nurseries throughout Kenya that generate income for 150,000 people, and thirty-five million trees have deeply altered the physical and social landscape of the country.
Notes on the film
"Taking Root" is suitable for larger screenings and school screenings (upper schools, vocational schools etc.).
A shortened film version (e.g. for tv broadcasting or school screenings) is available at: Filme für eine Welt (English with German and French subtitles).
Rating from our film jury
Selected as prime-time film at the Films for the Earth Festival 2012.
"Taking Root" is an intelligent, touching film that is easy to follow.
Based on remarkable interviews, the film offers a wide range of solutions and focuses strongly on the preservation of our natural environment.
"Taking Root" is packed with information and empirical examples and explains contexts very well. The film shows the impact of human activities on our planet explicitly, maintaining an appropriate balance. The film convinces with objectivity and good journalistic research.
"Taking Root" is emotionally involving and motivates the viewers to take action. It also allows to gain a planetary perspective, raises our sense of responsibility as well as compassion and a sense of love.
In view of the technical performance, the film is well structured but not very entertaining (the first half of the film is more exciting than the second one). "Taking Root" contains rarely shown images which are moreover very informative. Film music and cut are good, camerawork ok.
Further reviews
Grand Prize for Society Jade Kunlun Awards – 2010 World Mountain Documentary Film Festival Qinghai, China
Best Documentary Audience Award – Mendocino Film Festival 2009
Best Documentary – International Images Film Festival for Women 2009, Zimbabwe
Green Cinema Award – Maui Film Festival 2008, Hawaii
A moving tribute... it proves that courage is infectious. – Frances Moore Lappé
Lucid, lovely handmade film. – Ronnie Scheib, Variety
Her personality fills the screen and takes the interest of the audience with ease. Her fights and finally triumphs are the heart of the film. It's difficult to image an even more inspiring story. – The Montpelier Bridge
I watched the movie yesterday and by now I've told already 8 persons about it. It's amazing what one person can achieve when he or she can convince others. – aus dem Publikum
Technical information and screening rights...
Director(s):
Lisa Merton, Alan Dater
Production:
Marlboro Production, Lisa Merton, Alan Dater
Music:
Samite
Actors:
Wangari Muta Maathai, Lilian Wanjiru Njehu, Kamoji Wachiira, Vertistine Mbaya, Njogu Kahare, Leah Kisomo, Kinyanjui Kiuno, Njorongo Makanga, Naomi Kabura Mukunu, Kang'ethe Mungai, Moses Ndiritu Muta, Fredrick Njau
Year:
2008
Duration:
80 min
Language (audio):
French, English, Chinese, Spanish, Russian, Arabic, Swahili
Language (subtitles):
German
Country of origin:
Kenya, United States
Shooting Locations:
Kenya
Our age recommendation:
14
Screening rights:
Marlboro Productions () | Filmsortiment.de (Germany)
More information...
Availability...
Buy DVD
This film can be watched for free at the top.
This film can be watched for a fee at the top.
Rating
Contents
Entertainment value
Scientific & journalistic quality
Transfer of a momentum
Picture, music, craftsmanship
---