Growing Cities
Urban farming in America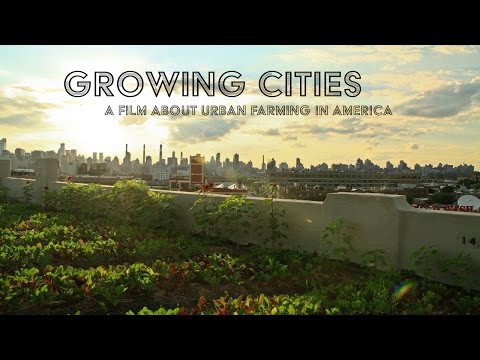 Official film description
A documentary film that examines the role of urban farming in America and asks how much power it has to revitalize our cities and change the way we eat.
In their search for answers, filmmakers Dan Susman and Andrew Monbouquette take a road trip and meet the men and women who are challenging the way this country grows and distributes its food, one vacant city lot, rooftop garden, and backyard chicken coop at a time.
Join them as they discover that good food isn't the only crop these urban visionaries are harvesting. They're producing stronger and more vibrant communities, too.
Rating from our film jury
Featured film at the Films for the Earth Festival 2014.
Contexts are well communicated and the connection to one's own life are intelligently presented. The film is convincing because of its exciting interviews, rare footage, and great documentation quality. Above all, this film demonstrates the potential for improvement in the way food is sourced.
A highly relevant film on the topic of urban farming, which is reflected in its treatment of the topic of human necessity and ecological basis.
"Growing Cities" is an entertaining, exciting film with many empirical examples that are both sensually and spiritually stimulating. This film inspires action by addressing the individual responsibilities of each of us and calls for action through a clear message which opens up the bigger picture.
Technical information and screening rights...
Director(s):
Dan Susman, Andrew Monbouquette
Script:
Dan Susman, Andrew Monbouquette
Production:
Dan Susman, Elmwood Motion Picture Company, Linseed Capital, Romark Entertainment, Audrey Paulman, David Hauser, Merril Smith, Rock Shaink
Music:
Joel St. Julien
Actors:
Jeffrey Smith, Will Allen, Jim Montgomery, Antonio Roman Alcalá, Richard Heinberg, Malik Yakini, Scott Stokoe, Eugene Cook, Mike Mennono, Caitlyn Galloway, Karen Oakland, Brooke Budner, Britta Riley, Jeremy Brosowsky, Anastasia Cole Plakias, K. Rashid Nuri, Ben Flanner, Karen Washington, Patrick Crouch, Ian Marvy, Katie Boeh-Barrett, John Ameroso, Tony Sandoval, Paula Segal, Warren Ontiveros, Eric Brelsford, Kirk Anderson, Jennifer Blecha, Rose Hayden-Smith, Duane Marcus, Ellen Nye, Daron Joffe, Tree Rubenstein, Rachel Reinhart, Bree Belcher, Eli Zigas, Nat Turner, Ruby Blume, Desean Baker, Rob Huffman, Jill Kuehler, Carol Ann Sayle, Larry Sayle, Alice Froehlich, Stephanie Scherzer, Nicole Barrett, Kim Beal, Julie Bryan, Glenn Foore, Paula Foore, Bun Lee Yun, Dorsey Barger, Ken Dunn, Kurt Goetzinger, John Edel, Ali Clark, Harry Rhodes, Brent Lubbert, Seneca Kern, Tyler Magnuson, Dan Carmody, Matt Cronin, Meg Caley, Cait Caughey, Coby Gould, Catalpa Beet, Adam Brock, Haley Dale, Jess Romer, Joy Lindholm, Cheryl Charles, Clayton Chapman, Luis Gambor, Gary Kula, Juan Martinez, Chelsea Taxman, David Cleveland, Cashawn Meyers, Mark Tollefson, Jeanette Bell, Jennie Grant, Viraj Puri, Andrea Petzel, Adam Hill, Nicole Capizzi, Nathan McClintock, Erika Allen, Nikki Henderson, Goutham Rao, Mateo Rutherford, Blake Kurasek, Justin Cutter, Heather Flores, Gwen Hill, Mike Score, Paul Weertz, Frank Stitt, Brother Yusuf, Jim Bremmer, Nick Runkle, Jenga Mwendo, Ted Ullrich, Pam Broom, Rio Scharf, Ronald Terry, Jamie Katz, Mark Winne, Andrew Hammerstein, Jeannie Dickes, Calre Duda, Nevin Cohen, Amy Barnett, Keren King, Mary Seton Corboy, Lindsey Goldberg, Kate Lee, Booka Alon, Terra Sorenson, Greg Willerer, Olivia Willerer, Alejandro Velez, Nikhi Arora
Year:
2013
Duration:
92 min
Picture format:
16:9
Our age recommendation:
14
Language (audio):
English
Language (subtitles):
German
Country of origin:
United States
Shooting Locations:
United States
Screening rights:
Dan Susman ()
More information...
Links & documents
Attachements
Availability...
You can also view it for a fee at:
Further reviews
Inspiring, educational ... and definitely worth watching! – Treehugger
Rating
Overall rating
Contents
Entertainment value
Scientific & journalistic quality
Transfer of a momentum
Picture, music, craftsmanship
---