Racing to Zero
Auf der Jagd nach Null Abfall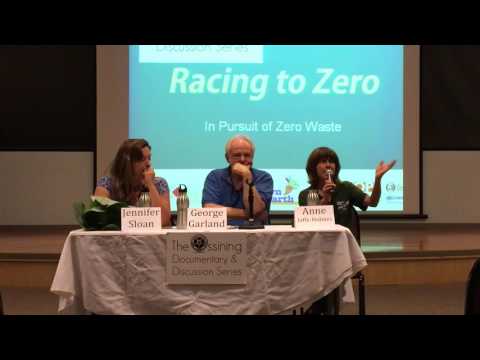 Official film description
"Racing To Zero" is a quick-moving, up-beat documentary that presents new solutions to the global problem of waste. Although waste may create garbage, garbage is in itself a resource, and that is the key. Our film follows the trail of trash and recycling with our guide, Robert Haley, Zero Waste Manger for the City of San Francisco as we travel the city from high to low and look behind-the-scenes at how zero waste can be achieved.
Further reviews
"There is no such thing as garbage," Fuller said. "Everything can be recycled." For example, the sidewalk you walk on today might have been the side of a building 100 years ago. The film also shows how not recycling can be a matter of life and death. The filmmakers traveled to small villages in Africa and China, showing the impacts of toxic waste released into the environment by improperly disposed electronics. – hoodline
Christopher Beaver's "Racing to Zero" is an hourlong promo for San Francisco's waste-recycling efforts, specifically regarding Mayor Ed Lee's pledge that the city will achieve "zero waste" by 2020. That Racing is preaching to the local choir is clear from an opening statistic about greenhouse gases that cites something called the "Institute for Local Self-Reliance" rather than the EPA or NASA. What follows is the declaration, in a Papyrus-esque font, that, "In nature, nothing is created, nothing is lost, everything changes" — an unthreatening way of stating the law of conservation of energy without bringing scary science into it. Crunchiness aside, "Racing to Zero" is an interesting look at one aspect of the city's infrastructure with plenty of pleasant eyenoise in the footage of the trash-processing plants, even if it's sometimes marred by unneeded on-screen text. – SF Weekly
Technical information and screening rights...
Director(s):
Christopher Beaver
Production:
Diana Fuller
Music:
Dan Wool
Actors:
Robert Haley, Peter Buss, Ernesto Salinas, Wayne Wiley, Soumyaa Kapil Behrens, Paul Faherty, Stephan Mark, Alam Arabejum, Michael Siminitus, Malaika Clark, Devin Fordyce, Sarah Koplowicz, Andrew Poon, Ivy Wan, Bob Shaffer, James Kao, Mike Biddle, Sushma Bhatia, Larry D. McCarty, Ruihong Zhang
Year:
2014
Duration:
59 min
Language (audio):
English
Country of origin:
United States
Shooting Locations:
United States
Our age recommendation:
12
Screening rights:
Green Planet Films ()
More information...
Availability...
This film can be watched for a fee at the top.
You can also view it for a fee at:
---