Zartbitter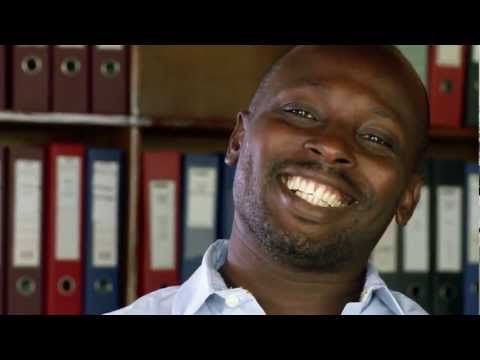 Official film description
Cocoa from Ghana becomes exquisite Swiss chocolate. But how can impoverished farmers take part in the booming cocoa business? Ghana-Swiss Yayra Glover has a vision. For this he returned to his home in West Africa. With the production of organic cocoa, he wants to help farmers to more independence and better living conditions. The film accompanies Yayra in the development of his project, for which he takes great personal sacrifices. Despite difficulties with the financing and the Ghanaian authorities, he adheres to his vision and can finally deliver his cocoa beans to a Swiss chocolate manufacturer for the first time.
Yayra Glover, Founder Bio-Kakao-Initiative:
"I want to do something against the rural exodus in Ghana. We have to create jobs so that the boys stay in the countryside and do not go to the cities where they sell things at the roadside for survival. The farmers must understand that they can earn their livelihood with cocoa. The Europeans - especially the Swiss - will always eat chocolate. This means that the cocoa farmers will always have work to do."
Joseph Awuku, cocoa farmer:
"I cultivate four cocoa farms. Half the income I have to hand over to the landlords. With the cocoa money I can pay the school fee for my children, the household expenses and medical expenses."
Felix Inderbitzin, purchaser Swiss chocolate manufacturer:
"We want to buy high-quality cocoa directly in the production countries. On-site visits are very important to us so that we can trace back the cocoa to the farmers. This enables us to guarantee to our customers that no child labor is involved in cocoa production."
Notes on the film
"Zartbitter" is suitable for schools (from an age of 14 years) as a starting point for fair trade, North-South problems, immigration or responsible entrepreneurship. Also because of its duration of the film (52 minutes) it is very suitable for school teaching.
It is also suitable für families and smaller thematic screenings.
"Zartbitter" is rather a TV film than a cinema film, interesting though, but not thrilling, nevertheless suitable for families and smaller, theme-specific performances.
In terms of content, it would have been exciting to find out how farmers' living conditions have changed in the long term (for example, were the aims for life improvement of rural residents achieved? Did the rural exodus stop?)
Rating from our film jury
"Zartbitter" conveys clearly knowledge and facts about Fairtrade, although few empirical examples are mentioned. It shows well the influence of mankind on the earth, but relativizes today's knowledge hardly adequate and does not really question it.
Although the film only creates sequence-wise direct will to act, the emotional, touching effect is given by the personal story of Yayra Glover and his strong vision. By incorporating different players, "Zartbitter" succeeds at times to create a planetary connection. The responsibility of each individual along the value chain is clearly shown. After watching the film, you have a more conscious relationship to chocolate, and you get courage and confidence.
From a craft point of view, we are dealing here with an insightful but rather evenly dramaturgy. Rarely shown pictures have a good relation to the contents. Music and editing are good, camera work satisfactory.
Technical information and screening rights...
Director(s):
Angela Spörri
Script:
Angela Spörri
Production:
Stella Händler, Schweizer Radio und Fernsehen
Music:
Simon Grab
Year:
2012
Duration:
52 min
Picture format:
16:9
Our age recommendation:
14
Language (audio):
German, English, Swiss German, Twi, Ewe
Language (subtitles):
German, French, English
Country of origin:
Switzerland
Shooting Locations:
Ghana
Screening rights:
Freihändler Filmproduktion ()
More information...
Links & documents
Attachements
Rating
Overall rating
Contents
Entertainment value
Scientific & journalistic quality
Transfer of a momentum
Picture, music, craftsmanship
---