Water Makes Money
How private corporations make money with water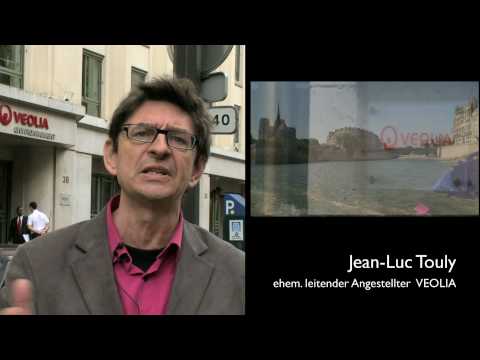 Official film description
10 to 15 years ago, a wave of privatizations of our water supply began, which since then has been propagating all over the world. Meanwhile the enduring consequences - such as slums cut off from the access to clean water and dry faucets in London - are sufficiently known. Nowadays few people talk about privatization, but rather about business concepts such as 'private-public partnership'. In such situations, the most important thing is the capital which 'creates' the infrastructure through loans. However, in these days of limited public finances, budgeting competence is at least as important as the technical mastering of water management. Many communities however risk to be cheated by superior corporate groups.
The documentary "Water Makes Money" is deals with the biggest water companies and the resistance against the way that they operate. It shows how 'money printing machines' of the companies work, focusing on French and German cities. "Water Makes Money" has an encouraging message and shows the lessons learned by the municipalities affected by the dominance of Veolia & Co.: Water in public hands is necessary and possible!
Technical information and screening rights...
Director(s):
Leslie Franke, Herdolor Lorenz, Hermann Lorenz
Script:
Leslie Franke
Production:
ARTE, Zweites Deutsches Fernsehen (ZDF), Kern Filmproduktion, Achille Du Genestoux, arte, Arte
Music:
Hinrich Dageför, Stefan Wulff
Actors:
Maude Barlow, Marc Laimé, Jean Luc-Touly, Raymond Aurillier, Anne Bouzinac, François Carlier, Gérard Chausset, Jean-Louis Couture, Patrick du Fau de Lamothe, Loïc Fauchon, Richard Gerard, Wenonah Hauter, Gert Hoffmann, Evelyn Huytebroeck, Philippe Kaltenbach, Anne Le Strat, André Leducq, Rainer List, Philippe Machetel, Adriana Marquisio, Wangui Mbatia, Danielle Mitterrand, André Ollivro, Martin Pigeon, Arnaud Pinxteren, Julien Pondaven, Peter Rosenbaum, André Santini, Séverine Tessier, Nicolas Tissot, Christian Ude, Hélène Valade, Philippe Valette, Manon Zakeossian
Year:
2010
Duration:
90 min
Our age recommendation:
16
Language (audio):
German, French
Country of origin:
Germany, France
Shooting Locations:
Germany, France
Screening rights:
KernFilm ()
More information...
Links & documents
Attachements
Availability...
This film can be watched for free at the top.
Further reviews
What happens if a private company undertakes the water supply for a whole city? If one is to believe Leslie Franke and Herddolor Lorenz, two filmmakers from Hamburg, the water price increases, the water quality decreases and the water pipes rot. The two of them noticed this especially in France, where the water industry was already partially privatized in the early 1980s, and this is why they shot "Water Makes Money" mainly on the other side of the Rhine. The companies go further: french water companies such as Veolia and Suez try to enter the world market. Both companies are already operating in Germany. Veolia, for example, is involved in the water supply of 300 municipalities in Germany, such as in Berlin, Braunschweig and Gera. In France, a growing number of municipalities and cities are taking water supply back into their own hands after the bad experiences of the past. For the corporations, the release of the critical film was rather unpleasant, since it also contains accusations of corruption connected with water privatization: Veolia brought a charge against the filmmakers because of defamation. The Paris Prosecutor has initiated a preliminary investigation. However, until now it is still allowed to show the documentary which has been financed by several initiatives, the Filmförderung Hamburg Schleswig Holstein and Arte. – Hamburger Abendblatt
---