The Islands & The Whales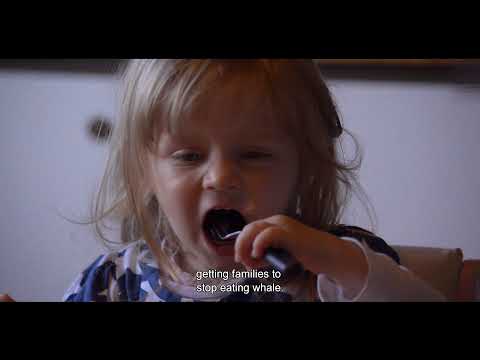 Official film description
In their remote home in the North Atlantic the Faroe Islanders have always eaten what nature could provide, proud to put local food on the table. The land yields little, so they have always relied on harvesting their seas. Hunting whales and seabirds kept them alive for generations, and gave them the way of life they love; a life they would pass on to their children. But today they face a grave threat to this tradition. It is not the controversy surrounding whaling that threatens the Faroese way of life; the danger is coming from the whales themselves. The Faroese are among the first to feel the affects of our ever more polluted oceans. They have discovered that their beloved whales are toxic, contaminated by the outside world. What once secured their survival now endangers their children and the Faroe Islanders must make a choice between health and tradition.
Notes on the film
Visually, absolutely stunning documentary. A ballad from a mystic, unknown, yet strangely familiar world. But the film also asks the right and important questions. What is the meaning of whaling in the 21st century for Faroe culture? Should the Faroes put tradition over health? If the whales are not endangered, if it is sustainable, should they still stop hunting them? The film also debates and questions modern societies negative influence on nature and the eco system of the Faroe islands. He achieves that with impressive and metaphoric pictures. A Great piece of visual storytelling.
Technical information and screening rights...
Director(s):
Mike Day
Script:
Mike Day
Production:
Mike Day, Stefan Frost, Henrik Underbjerg
Music:
Antony Partos, Mike Sheridan
Year:
2016
Duration:
81 min
Our age recommendation:
16
Language (audio):
Faroese
Language (subtitles):
English
Country of origin:
Denmark, United Kingdom
Shooting Locations:
Denmark
Screening rights:
Amstelfilm (Netherlands) | Roco Films ()
More information...
Links & documents
Attachements
Availability...
This film can be watched for a fee at the top.
You can also view it for a fee at:
Further reviews
"The Islands and the Whales" is nothing short of a masterpiece, and a keystone in raising awareness of environmental issues, as well as providing a nuanced and unbiased account of the overwhelming complexity of it all. It does all this whilst also conveying a sense of the natural beauty of the Faroe Islands, mainly through the fantastic cinematography, which throws most of the scenes into an artistic, almost designed light. – Guestlist
Mike Day's impressive documentary profiles the pilot whale hunters of the Faroe Islands. The film has an elegiac feel....In future years, his documentary is likely to be regarded as a record of the final days of a way of life that cannot not be sustained. – Independant
a characterful, stunningly shot documentary, that excels at presenting the many facets of a very specific problem – CultureFly
It's a very good-looking film, with lovely images. – The Guardian
An ethnographic doc with plenty of room for artful filmmaking, Mike Day's sometimes breath-catchingly beautiful The Islands and the Whales takes moviegoers to the remote Faroe Islands, which sit between Iceland and Scotland. – The Hollywood Reporter
There is no voice over, no clunking agenda or ideology imposed. The cinematography is spellbinding, which greatly enhances the deep empathy that it is possible to feel both for the screaming whales and for the people who eat them. The Islands and the Whales is a deeply enchanting film. – The Ecologist
I found "The Islands and The Whales" to be a documentary that very much challenges the raw black and white ideology we often possess when it comes to how we view the natural world. Nevertheless, this could also be a warning to the rest of us of things to come and one day we may have to similarly make increasingly difficult choices about how we choose to live and interact with our planet. – The Wildlife Channel
Emmy Award nominated 2018 –
Winner Best Emerging Filmmaker Hotdocs 2016 –
Winner Best Director Tacoma IFF 2017 –
Winner Best Documentary Irvine IFF 2017 –
Winner Reykjavik IFF Documentary Award 2016 –
Winner Phoenix IFF Best Documentary 2017 –
Winner Best Film Philadelphia EFF 2017 –
---