The Green Lie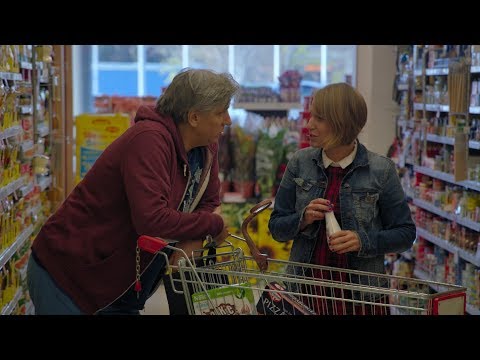 Official film description
Environmentally friendly electric cars, sustainably produced food, fair production: Hooray! If we believe the companies, we can save the world by making purchasing decisions. But this is a popular and dangerous lie. Together with Greenwashing expert Kathrin Hartmann, Werner Boote ("Plastic Planet", "Alles unter Kontrolle") shows in his new documentary how we can defend ourselves against this.
Notes on the film
"After the gloomy view of the industry in Plastic Planet´, it is time to show that there are also companies that produce sustainably and fairly. With this movie idea producer Markus Pauser approached me in spring 2011 and we both had no idea what huge abysses would open up for us!
The first researches led to those companies that had a positive image in public opinion. I met with Fairtrade and similar respected associations and organisations and learned that products do not have to be 100% sustainable just because green slogans stick to the packaging. In most cases, the labelling only refers to individual components of the products and often only a small fraction actually has to be sustainable. Over time I noticed that I couldn't find a company that could `sustainable überzeugte´. On the contrary! And how easy it is to put on a green coat anyway, I noticed when a representative of a well-known German testing and quality seal provider suggested to me at an event in Berlin to certify my new film with the title `CO2 neutral´ for a fee of Euro 3.000,-. I knew this new film would be an important one.
"The central question of a late evening issue of the legendary discussion programme `CLUB 2´ on Austrian Broadcasting, which took place on the occasion of my film `Plastic Planet´ in October 2011. In the midst of representatives of industry was Kathrin Hartmann. The Munich journalist, author (`The end of Märchenstunde´) and expert for Greenwashing took the insidious statements of the businessmen apart eloquently and put in competent way the profit interests of environmentally destructive corporations.
At this point I was already thinking about trying something new and making a documentary with a film partner. For we are accustomed to expressing the documentary filmmaker's thoughts through the "voice from off".
but it seemed much more immediate and appealing to me to discuss my thoughts live in front of the camera and in the middle of the action. Kathrin Hartmann agreed and so we decided to filmically portray the green lies of the companies and uncover them together.
The extent of the industry's ecological lies was demonstrated by the fact that we researched many different cases in all conceivable sectors and the methods and procedures of the companies were always the same. The cases shown in "The Green Lie" are therefore exemplary for all industries and show how the industry generally behaves. This made it all the more important to offer suggestions for improvement in the film and to search for solutions. However, it only became clear to me in the course of my work that this required a general rethink of the current economic system.
There are many people and organizations worldwide who are in conflict with the corporations on the side of this film. If more and more people understand the destructive mechanisms of corporations and deregulated capitalism, we may one day succeed in creating a system that no longer needs green lies. People who demanded parliamentary democracy in the 16th century were then dismissed as dreamers. This system of government is now practiced in many places. Today, if we want to protect what we need most: human rights and the rights of nature, we must dream of a democratic world economic system.
Werner Boote
Technical information and screening rights...
Director(s):
Werner Boote
Script:
Werner Boote
Production:
Markus Pauser, Erich Schindlecker
Music:
Marcus Nigsch
Actors:
Werner Boote, Raj Patel, Noam Chomsky, Sonia Guajajara, Kathrin Hartmann
Year:
2018
Duration:
93 min
Our age recommendation:
14
Language (audio):
German, English
Country of origin:
Austria
Shooting Locations:
Germany, Austria, Brazil, Indonesia, United States
Screening rights:
Little Dream Entertainment (Germany)
More information...
Links & documents
Attachements
Availability...
You can also view it for a fee at:
---