Super Size Me
A Film of Epic Portions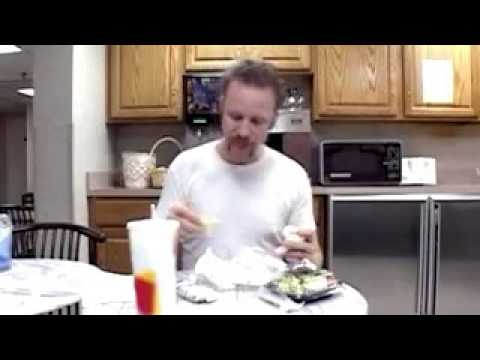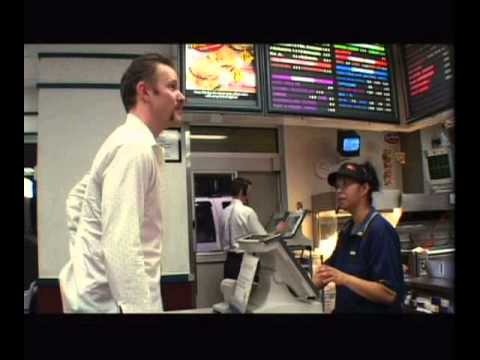 Official film description
Why are so many Americans overweight? New Yorker and filmmaker Morgan Spurlock investigated this question and wanted to find out for himself what the consequences of the all-American diet are. The film portrays how Spurlock eats only McDonald's for 30 days for breakfast, lunch and dinner. The results are horrifying: 9 kg of fat around his ribs, liver condition like that of an alcoholic, high blood pressure and the beginning of impotence.
Spurlock uncovers how fast-food chains infiltrate school cafeterias and the hearts of children who spend hours in the McDonald's playrooms. The film sheds a light on the fast food industry that fuels this unhealthy lifestyle. The satirical film won Best Director at Sundance Festival 2004.
Notes on the film
One of the highly entertaining documentaries. Very suitable for schools and schools of home economics.
A very surprising film in times in which certain fast food chains sponsor the EUROCUP!
Rating from our film jury
"Super Size Me" is a highly entertaining and intelligent documentary, which stimulates mind and soul.
In terms of content, the film takes into account different perspectives on the issue and convinces with good interviews. The journalistic research and the documentation quality are good, contexts are explained well. The relevance of the issue is high and viewers can draw direct connections to their daily lives. The film refers only weakly to the ecosystem as the basis of life.
Since the experiment is not designed as a scientific study, only a few facts are conveyed. Nonetheless, the results are presented objectively and faithfully, even if some of the results don't meet the expectations. In addition, interesting systemic relationships regarding the influence of advertising are shown.
On an emotional level, "Super Size Me" is touching and raises our sense of responsibility. The film transfers a clear call-to-action.
Concerning the technical performance there is hardly any inadequacy: structure, excitement, image quality, film editing and soundtrack are consistently well-made. Only the camerawork is just moderate and the pictures include nothing new.
Technical information and screening rights...
Director(s):
Morgan Spurlock
Script:
Morgan Spurlock
Production:
Morgan Spurlock, The Con, Kathbur Pictures, Studio On Hudson
Music:
Steve Horowitz
Year:
2004
Duration:
100 min
Picture format:
16:9
Our age recommendation:
12
Language (audio):
German, English
Language (subtitles):
German, English
Country of origin:
United States
Shooting Locations:
United States
Screening rights:
Pathé (Switzerland) | Fortissimo Films, Netherlands ()
More information...
Links & documents
Attachements
Availability...
Buy DVD
This film can be watched for free at the top.
You can also view it for a fee at:
Further reviews
Huge documentary with a serious message. – TV Spielfilm
Funniest documentary of the year! Subversive fun! This nutrition-aware film is entertaining and filling! – TV Today
The Michael Moore of Fast Food. Bold, disgusting and funny! – The Times
I'm lovin' it! – Peter Travers, Rolling Stone
Rating
Overall rating
Contents
Entertainment value
Scientific & journalistic quality
Transfer of a momentum
Picture, music, craftsmanship
---