Solartaxi
Around the World with the Sun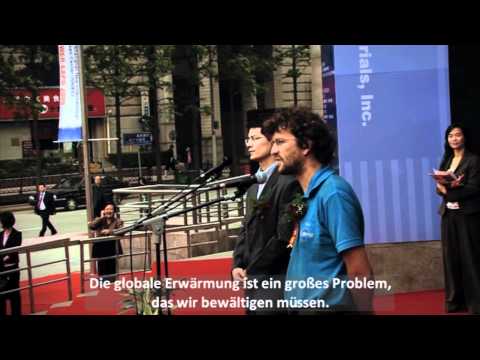 Official film description
Solar power works! It is efficient and above all reliable. A zero-emissions vehicle is not fantasy and this film is proof.
The story of an epic, 18-month adventure that spans the globe in a home-made car powered exclusively by the sun. Louis Palmer and Solartaxi meet princes, movie stars, politicians and scientists, but most importantly they encounter ordinary people and show them that locomotion using only the power of the sun is possible.
Notes on the film
This film received numerous awards:
KRAKAU Filmfestival
GREEN FILM Festival Seoul
CINE ECO Portugal
ONE World Filmfestival Prague
ENERGY FILM Festival Lausanne
CINEAMBIENTE Turin
Louis Palmer was awarded the European Solar Prize and Champions of the Earth for his achievements.
Rating from our film jury
Selected for the Films for the Earth Festival 2013.
"Solartaxi" is an entertaining film with positive effect that is more suitable for the undemanding but can certainly stimulate and inspire.
The film provides a good reference to our own life based on a model example. Nevertheless, the style seems too staged. The transfer of knowledge and contexts is therefore something from the field of vision.
From a scientific and technical point of view, "Solartaxi" does not offer much new, as the technology used is already overhauled. The facts and figures presented are of little relevance. The energy-intensive production of solar panels is not addressed.
In contrast, the inspiring vision is strongly at the center. Especially the fact that a normal person without his own resources has managed to realize his dream is very motivating. Through the theme of the world trip the film gets a global dimension.
The structure is plausible and the film has a reasonable length. Pictures are partly somewhat repetitive, editing and camera work are mediocre. For this, the film music fits well and gives "Solartaxi" additional sympathy points.
Technical information and screening rights...
Director(s):
Erik Schmitt
Script:
Erik Schmitt
Production:
Erik Schmitt, Daniel Thomaser
Actors:
James Cameron, Jay Leno, Ted Levine, Tony Shalhoub, Louis Palmer
Year:
2012
Duration:
68 min
Our age recommendation:
12
Language (audio):
German, English
Language (subtitles):
German
Country of origin:
Switzerland
Shooting Locations:
Switzerland, Germany, China, India, Australia, Indonesia, United States, Poland
More information...
Links & documents
Attachements
Further reviews
Rating
Overall rating
Contents
Entertainment value
Scientific & journalistic quality
Transfer of a momentum
Picture, music, craftsmanship
---