Seeds of Time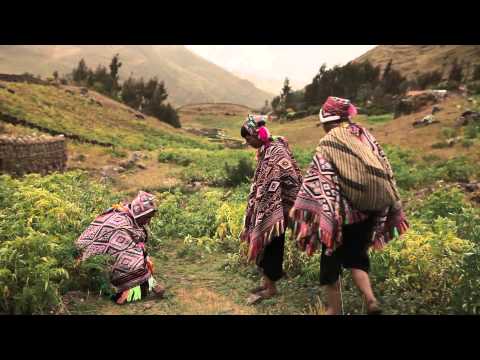 Official film description
A perfect storm is brewing as agriculture pioneer Cary Fowler races against time to protect the future of our food. Seed banks around the world are crumbling, crop failures are producing starvation and rioting, and the accelerating effects of climate change are affecting farmers globally.
Communities of indigenous Peruvian farmers are already suffering those effects, as they try desperately to save over 1,500 varieties of native potato in their fields. But with little time to waste, both Fowler and the farmers embark on passionate and personal journeys that may save the one resource we cannot live without: our seeds.
Further reviews
The urgency of expanding the world's seed portfolio is made eminently clear. – New York Times
"Seeds of Time" offers a vital, clear-headed look at the effects of climate change on global food security. – Los Angeles Times
Very powerful...it's fascinating...you wouldn't think that something like seeds would be that compelling, but it is and it's really important. – Claudia Puig, USA Today / 89.3 KPCC
Engaging. – The Holiwood Reporter
This is a documentary you cannot afford to miss. – CRITERION CAST
"Seeds of Time" stands out as truly exceptional. It's about an issue less prominent in the public dialogue but of universal importance...it's just riveting filmmaking, a story swiftly and beautifully told. – MARGARET MEAD FILM FESTIVAL
The documentary directed by Sandy McLeod, is a portrait of Fowler, – one that also provides an object lesson in what it looks like to search for genuine solutions. – GRIST
Technical information and screening rights...
Director(s):
Sandy McLeod
Production:
Sandy McLeod, Dallas Brennan, Stanley F. Buchthal, Abigail E. Disney, Chiemi Karasawa, J.D. Marlow, Emily Triantaphyllis, Hungry, Fork Films, isotopefilms
Music:
Kris Bowers
Actors:
Cary Fowle, Mariano Suta Apucusi, Pamela Anderson, Alejandro Argumedo, Lino Mamani Marca, John Torgrimson, Diane Ott Whealy, Nolberto Palomino Ccana, Luigi Guarino, Paul Smith, John Bamberg, Chico Fernandez, Janny Van Beem
Year:
2013
Duration:
77 min
Language (audio):
English
Language (subtitles):
French, English, Italian, Spanish, Portuguese, Russian, Serbian, Czech
Country of origin:
United States
Shooting Locations:
Norway, Peru, Russia, United States
Our age recommendation:
16
Screening rights:
Kino Lorber (United States)
More information...
Links & documents
Attachements
Availability...
This film can be watched for a fee at the top.
You can also view it for a fee at:
---