Poisoning Paradise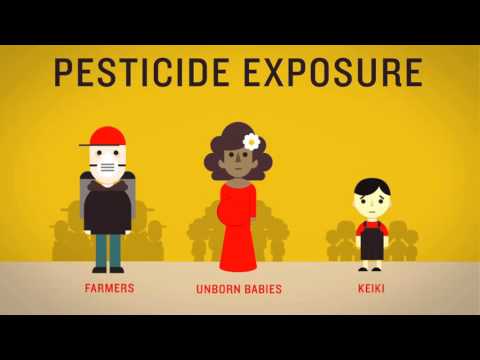 Official film description
Journey to the seemingly idyllic world of Native Hawaiians, where communities are surrounded by experimental test sites and pesticides sprayed upwind of their neighborhoods. Poisoning Paradise details the ongoing struggle to advance bold new legislation governing the fate of their island home.
In an attempt to diversify an economy that was overly reliant on tourism, policymakers in both Hawaii and Washington, D.C. encouraged the world's largest biotech companies to utilize Kauai's favorable climate and fertile soil to test genetically engineered seeds and crops. Corporations including Syngenta, Pioneer DuPont, BASF, and Dow Agrosciences have since applied hundreds of tons of Restricted Use (RU) pesticides on thousands of acres across the Garden Island's West Side, the traditional homeland of an indigenous and disenfranchised population.
Interviews with local residents, scientists, and healthcare professionals reveal the hardships and ecological dangers of intensive and continuous pesticide applications and the environmental injustice thrust upon people living in one of the most sacred, biologically unique and diverse locations on earth. Award-winning investigative journalist Paul Kolberstein describes Kauai as "one of the most toxic agricultural environments in all of American agriculture."
As champions of a grassroots movement to make Kauai County Bill 2491 law, local activists battle political corruption, corporate bullying, and systematic concealment by the agrichemical industry.
Although Kauai's plight might seem like a local issue, this debate is in fact raging around the world as country after country is becoming concerned about pesticides, the future of food, and sustainable farming practices.
Further reviews
Best Documentary Feature – Los Angeles Cinema Festival of Hollywood 2017
Spirit of Activism – Colorado Environmental Film Festival 2017
Best Documentary – Hollywood Reel Independent Film Festival 2017
Technical information and screening rights...
Director(s):
Keely Shaye Brosnan, Teresa Tico
Production:
Pierce Brosnan, Keely Shaye Brosnan, Teresa Tico, Kauai Girl Productions, New Leaf Productions Inc
Music:
Jeff Rona, Pink Floyd, Ken Emerson, Peter Kater, Matthew Schoening, James Kimo West, Marco Beltrami, Neil Young
Actors:
Robert Kennedy Jr., Dr. Vandana Shiva, Sylvia Earle, Andrew Kimbrell, Shiva Ayyadurai, Andrea Browser, Eric Chivian, Brenda Eskenazi, Lee Evelin, Gary Hosen, Loren Pang, Bradley, Fern Rosentiel, John Aana, Alika Atay, Dustin Barca, Malin Chun, Sol Kahn, Jo King, Kanaille Makuaole, Marghee Maupin, Jim McGihon, Rosalyn Reiner, Annie Underwood, Gary Underwood
Year:
2017
Duration:
0 min
Language (audio):
English
Country of origin:
United States
Shooting Locations:
United States
More information...
---