Planetary
Reconnect to Something Bigger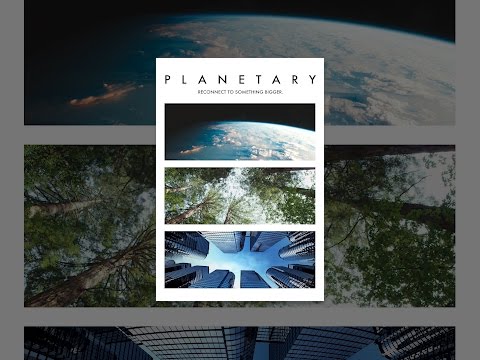 Official film description
We are in the midst of a global crisis of perspective. We have forgotten the undeniable truth that every living thing is connected.
"Planetary" is a provocative and breathtaking wakeup call – a cross continental, cinematic journey, that explores our cosmic origins and our future as a species. It is a poetic and humbling reminder that now is the time to shift our perspective. "Planetary" asks us to rethink who we really are, to reconsider our relationship with ourselves, each other and the world around us – to remember that we are "Planetary".
In a stunning visual exploration, the film interweaves imagery from NASA Apollo missions with visions of the Milky Way, Buddhist monasteries in the Himalayas, and the cacophonous sounds of downtown Tokyo and Manhattan, with intimate interviews from renowned experts including astronauts Ron Garan and Mae Jemison (the first African American woman in space), celebrated environmentalist Bill McKibben, National Book Award winner Barry Lopez, anthropologist Wade Davis, to National Geographic Explorer Elizabeth Lindsey, and Head of the Tibetan Buddhist Kagyu school, the 17th Karmapa. They shed new light on the ways our worldview is profoundly affecting life on our planet.
Notes on the film
Mother Earth from the perspective of outer space with the primary statement that we as humans are a small part of a single large, whole system. "Planetary" succeeds as one of the few films in bringing this up unexpectedly and unideologically.
Rating from our film jury
"Planetary" is of high relevance and with a clear connection to one's own life. A good journalistic achievement, which also succeeds very well in presenting different personalities and their profound statements.
The film is rather slow, decelerating, profound and meditative, and is characterized by challenging yet fluid entertainment. "Planetary" is mentally and sensory very stimulating, intelligent and enlightening. The film is of a philosophical nature and does not raise a claim to convey knowledge and facts, concrete solutions or a high scientific level.
"Planetary" arouses a very strong planetary perspective and, with a view from the universe to cells, creates a very strong relation to a larger whole. "Planetary" inspires a positive vision of an enlightened coexistence of all species. The film touches emotionally very varied and awakens mindfulness, appreciation, admiration and reverence, in addition it teaches responsibility to oneself and others.
This powerful, spiritual documentation is accompanied by wonderful and impressive pictures, some recordings have never been shown before. Cinematically, editing and music are convincing, the structure is clear and the dramaturgy evenly.
Technical information and screening rights...
Director(s):
Guy Reid, Steve Watts Kennedy
Script:
Steve Watts Kennedy
Production:
Guy Reid, Steve Watts Kennedy, Planetary Collective, Christoph Ferstad
Music:
Justin Radford, Maximilian Fyfe, Jerome Alexander, HUMAN SUITS
Actors:
Ron Garan, David Loy, Mary Evelyn Tucker, Janine Benyus, Bill McKibben, Alan Senauke, Ali Smith, Anam Thubten, Angel Kyodo Wiliams, Barry Lopez, Becca Tarnas, Brian Swimme, Charles Eisenstein, Drew Dellinger, Elizabeth Kapu'uwailani Lindsey, Ethan Nichtern, Gyalwang Karmapa, Roshi Joan Halifax, Joanna Macy, Lawrence Ellis, Luntana Nakoggi, Mae Jemison, Mona Polacca, Paul Hawken, Peter Russell, Sean Kelly, Subonfu Some, Tiokasin Ghosthorse, Wade Davis, Wes Nisker
Year:
2015
Duration:
85 min
Our age recommendation:
16
Country of origin:
United States
Shooting Locations:
Japan, United States
Screening rights:
Abramorama (United States)
More information...
Links & documents
Attachements
Availability...
This film can be watched for a fee at the top.
You can also view it for a fee at:
Rating
Overall rating
Contents
Entertainment value
Scientific & journalistic quality
Transfer of a momentum
Picture, music, craftsmanship
---