March of the Penguins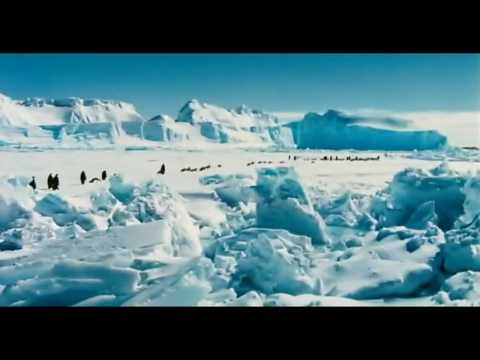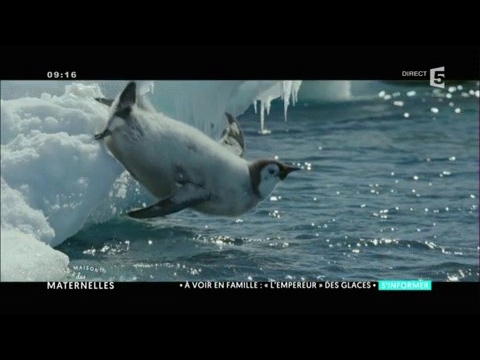 Official film description
In Antartica, every year a new quest begins for penguins to find the perfect mate and start a family. This courtship will begin with a long journey - a journey that will take them hundreds of miles across the continent by foot, in freezing cold temperatures, in brittle, icy winds and through deep, treacherous waters.
They will risk starvation and attack by dangerous predators, under the harshest conditions on earth, all to find true love.
Narrated by Morgan Freeman, this Oscar-winning documentary was suprisingly a box-office hit, actually outgrossing that same year's "Best Picture" nominees.
Notes on the film
This film is suitable for children, schools and as great a Christmas present. It make accessible the value of living beings, who could not be further away from us but still suffer the effects of human's on the planet.
Above all, the music is spectacular and transfixes the audience on a emotionally epic ride.
The original French-language release features a first-person narrative as if the story is being told by the penguins themselves. In contrast to the French version, their English release has a third-person narrative by a single voice, actor Morgan Freeman.
Oscar winner 2006: Best Documentary
Technical information and screening rights...
Director(s):
Luc Jacquet
Script:
Luc Jacquet, Michel Fessler
Production:
Bonne Pioche, Wild Bunch, National Geographic Films, Yves Darondeau, Christophe Lioud, Emmanuel Priou
Music:
Émilie Simon, Alex Wurman
Year:
2005
Duration:
82 min
Our age recommendation:
6
Language (audio):
German, French, English, Spanish
Language (subtitles):
German, French, English, Spanish
Country of origin:
Shooting Locations:
More information...
Links & documents
Attachements
Availability...
Buy DVD
You can also view it for a fee at:
Further reviews
Overwhelming ... touching and fascinating scenes at the same time. A masterpiece ... We can only bow to such an achievement. – Polar News
The images coming from the perpetual ice are impressing. Hats off to the cameramen who even endured during blizzards. – Facts
The movie sensation of the year. – TV Movie
Make sure not to miss! – ZDF heute-journal
An overwhelming natural spectacle and a thrillingly emotional cinema in one. – CINEMA
Reverence for nature is abundant throughout the movie. It also teaches, through narration and filmed scenes, a sense of perseverance for animals that survive under the harshest conditions and a deep appreciation and understanding of the cycle of life: birth, life, and death. – Common Sense Media
Despite the obvious logistical difficulties in making this film, the result is something that's deceptively simple yet surprisingly moving. – The Associated Press
The type is new. Almost revolutionary, at the border between animal documentary, fiction and report. – France Soir
Luc Jacquet could inspire his film with wonderful poesy. It seems as if it is an anthem of life, espacially because the habituel comments about the manners and customs of the penguins have been removed. – Le Nouvel Observateur
---