Inside Job
The film that cost over $ 20.000.000.000.000 to make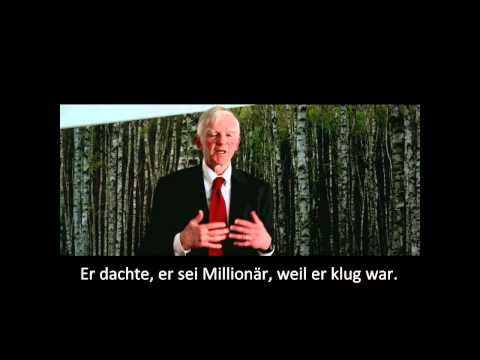 Official film description
The Academy Award Winner for Best Documentary, "Inside Job", directed by Charles Ferguson shows that the 2008 global financial Armageddon was no accident. It was predicted and could have been prevented. This compelling, serious, easy-to-follow film will make you want to raise your voice and declare..."Enough!"
Notes on the film
An excellent and exciting documentary that offers an eye-opening, objective and astute perspective of the financial crisis. Among other things, it focuses on the "stars of the show": UBS, Credit Suisse, members of the Obama government and many more.
Although the economic system is strongly connected to and, due to its lack of sustainability, negatively influences the ecosystem, "Inside Job" does not address this issue.
Rating from our film jury
"Inside Job" is sophisticated, smart and has a high news value. It is suitable for secondary school students, companies and educated multipliers, and it can be distributed as a "sharing" DVD as well (to be passed on to other people with the aim of reaching a wider audience).
The topic is highly relevant, based on excellent research and well documented. The film gives a good overview of the complex interconnected factors behind the financial crisis. Even though the issue can be directly applied to Switzerland, it seems difficult to associate this banking world with our own lives. Moreover, "Inside Job" focuses very strongly on negative examples and does not present better alternatives or methods.
The film is full of knowledge and facts, which at times become overwhelming. In order to follow the 'plot', viewers have to know quite a lot about the various institutions involved. The examples presented are reliable and very credible, and the circumstances are put into appropriate perspective.
On an emotional level, "Inside Job" comes across as moving, but – despite ending with a clear message – it does not inspire us to action. Instead, we end up with the feeling of being totally unable to influence the system.
The film is insightful and the structure creates tension. The images reflect the content well and are aesthetically pleasing, though not particularly unique. The editing is good, the cinematography adequate and the soundtrack skillful.
Technical information and screening rights...
Director(s):
Charles Ferguson
Script:
Charles Ferguson, Chad Beck, Adam Bolt
Production:
Sony Pictures Classics, Representational Pictures, Screen Pass Pictures
Year:
2010
Duration:
104 min
Our age recommendation:
16
Language (audio):
English, Italian
Language (subtitles):
German, French, English, Italian, Swedish, Hindi, Dutch, Norwegian, Finnish, Turkish, Danish
Country of origin:
United States
Shooting Locations:
France, China, United States, United Kingdom, Iceland, Singapore
Screening rights:
Praesens Film (Germany)
More information...
Links & documents
Attachements
Availability...
Buy DVD
You can also view it for a fee at:
Further reviews
A documentary about the global financial crisis with Matt Damon as narrator – as gripping as it is shocking. – Blickpunkt
It is rare that the documentation of a topic of such complexity evokes such awe; the analysis is so razor-sharp that the protagonists must have been in pain. The background as well as the consequences are perfectly comprehensible and all the crucial protagonists get a chance to speak. Watch it and be amazed. – Rezension eines Amazon-Kunden
Academy Award for Best Documentary Feature, 2011 –
Rating
Overall rating
Contents
Entertainment value
Scientific & journalistic quality
Transfer of a momentum
Picture, music, craftsmanship
---