Inhabit
A Permaculture Perspective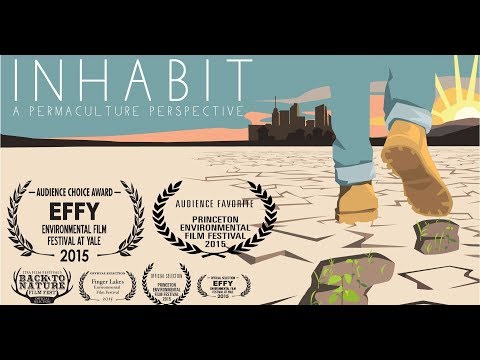 Official film description
"Inhabit" is a feature length documentary introducing permaculture. It presents a vast array of projects, concepts, people, and translates the diversity of permaculture into something that can be understood by an equally diverse audience. For those familiar with the concept, it will be a call to action and a glimpse into what's possible - what kind of projects and solutions are already underway. For those unacquainted with permaculture, it will be an introduction to a new way of being and a new way of relating to the Earth. For everyone, it will be a reminder that we are capable of being a healing force for the planet.
Focused mostly on the Northeastern and Midwestern regions of the United States, "Inhabit" provides an intimate look at permaculture peoples and practices. During the Spring, Summer, and Fall of 2013, Costa Boutsikaris and Emmett Brennan documented over 20 sites in a range of rural, suburban, and urban environments. They explored responses to local and global challenges from issues of food, water, and medicine, to governance, economy, and culture.
Rating from our film jury
Selected for the Films for the Earth Festival 2015.
"Inhabit" is an intelligent, touching and inspiring film. Permaculture practices have rarely been explained in such detail before - an impressive journalistic performance.
"Inhabit" makes contexts clear and shows the impact of current agricultural practices concisely. On the basis of present knowledge, the film presents many positive examples and possibilities and encourages to act.
"Inhabit" teaches accountability toward ourselves and others as well as respect and appreciation for ecological diversity.
The film is well-structured, though not particularly exciting. "Inhabit" convinces with beautiful imagery, creative cut and camerawork and an appropriate soundtrack.
Technical information and screening rights...
Director(s):
Costa Boutsikaris
Production:
Emmett Brennan
Music:
Aled Roberts
Actors:
Geoff Lawton, Ben Falk, Eric Toensmeier, Lisa Fernandes, Steve Whitman, Lisa Depiano, Dwaine Lee, Andrew Faust, Paula Hewitt, Rhamis Kent, Ari Rosenberg, Louis Sanchez, Pandora Thomas, Charles Einstein, Michael Phillips, Keith Morris, Steve Gabriel, Susana Kaye Lein, Mark Shepard, Dave Jacke
Year:
2014
Duration:
92 min
Our age recommendation:
16
Language (audio):
English
Language (subtitles):
German, French, Italian, Spanish
Country of origin:
United States
Shooting Locations:
Screening rights:
Filme für die Erde (Switzerland, Germany, Austria, Liechtenstein)
More information...
Links & documents
Attachements
Availability...
This film can be watched for a fee at the top.
You can also view it for a fee at:
Further reviews
Rating
Overall rating
Contents
Entertainment value
Scientific & journalistic quality
Transfer of a momentum
Picture, music, craftsmanship
---