Hope for All
Food Matters – You Matter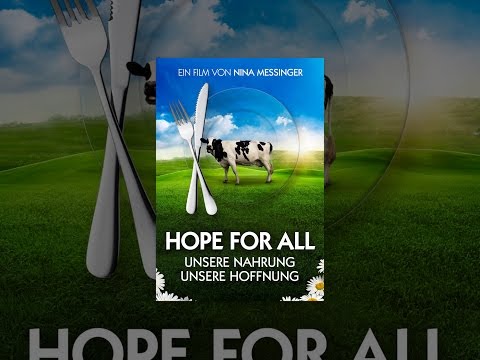 Official film description
Half of the population in Western society suffers from being overweight. Cardio-vascular diseases, diabetes and cancer are epidemic. Our meat consumption has quintupled over the past 50 years. 65 billion land animals are being slaughtered every year for food consumption. One third of the global grain production is fed to animals for fattening while 1.8 billion people world wide suffer from hunger and starvation. Can there really be a solution to all these problems?
In her documentary, Austrian author and filmmaker Nina Messinger follows the tracks of our diet in Europe, India and the US. Along the way, she meets with leading experts in nutrition, medicine, and agriculture, among others, as well as with farmers and people who have recovered from severe illnesses by simply changing their diet. The film´s deeply distressing images and moving stories make a clear case for a plant-based diet that is not so just a short-lived life-style trend but rather for preserving our entire world. The movie serves up a stunningly simply, yet comprehensive solution – right in front of our plates. Changing our eating habits will rebalance not just our health but the planet itself.
"Hope for All" is a startling and moving documentary uncovering and revealing the effects of Western eating habits. It contrasts the limited interests of the pharmaceutical and agricultural industry with the all encompassing interests of living beings on this planet and with the power of responsible consumer action.
"Hope for All" is an urgent call to action to all of us to commit to a change towards sustainability and safeguarding our living environment.
It has a clear message: Change your diet and change the world.
Further reviews
This important film shows what we have to do to protect this planet and all its inhabitants. – Paul McCartney
A moving and shocking documentary, but at the same time film full of hope for everybody that wants to know what's happening behind closed doory of animal agriculture and how it could be. – Dr. Anita Krätzer
"Hope for all" is an important film, which shows through impressive footage, that a plant-based diet is the solution for health issues, climate change, food security, as well as being good for our sentient companions, the animals. It's hopeful message is that by choosing a vegan lifestyle, we have the capacity to fundamentally change the world and it's sustainability. – Dr. med. Andrea Lusser
This movie is brilliant, because it combines "Earthlings", "Fork over Knives" and "Cowspiracy" into one single movie. Thank you for this amazing masterpiece! – Alexandra Keleman
"Hope for All" does not only show gruesome pictures, it also presents alternatives. This documentary demonstrates the benefits of a vegan diet, how it can even cure some illnesses. It shows that there is a way out of this hell on Earth. – Vegpool
Must see! "Hope for All" is an urgent appeal to all of us to reconsider our eating habits and to start consuming sustainably produced food. The message of this film is encouraging and motivating, it's easy to just start making changes. In the words of Jane Goodall, "You can make a difference, every single one of you" – Utopia
"Hope for All" is an important film, that appeals to the conscience. The film contrasts the current state of the world: battery farming, malnutrition, and massive environmental damages, with a happier, greener world of plant nutrition and free-roaming animals. The rapid transitions are effective, as they also show how the individual can affect change by simply changing his diet. This gives us hope. At the same time, the film conceals facts and reports quite one-sidedly about its philosophy without any counter-voices. Lacking in relativity, "Hope for All" can be considered with healthy skepticism. Although interesting and impressive, more objectivity and perspective would have helped in this film. – Grünes Element
Technical information and screening rights...
Director(s):
Nina Messinger
Script:
Nina Messinger
Production:
FME Media e.U
Actors:
Melanie Joy, Jan Gerdes, Vandana Shiva, Jane Goodall, Martin Hofstetter, Caldwell B. Esselstyn, T. Colin Campbell, Rüdiger Dahlke, Claus Leitzmann, Sharon Kintz, Thomas Wendt, Arthur Soteros, Ernst Walter Henrich, Will Tuttle, Josefine Jagschitz, Karl Ludwig Schweisfurth, Josef Walchshofer, Hermann Focke, Harold Brown, Benjamin Zephaniah, Hubert Liebertz, Klaus Tröger, Ulrich Seidel, Marc Bekoff, Ralf Brosius, Margarete Langerhorst
Year:
2016
Duration:
100 min
Language (audio):
German, English
Country of origin:
Austria
Shooting Locations:
Germany, Austria, India, United States
Our age recommendation:
12
Screening rights:
Nino Messinger () | Tiberius Film GmbH (Germany)
More information...
Availability...
This film can be watched for a fee at the top.
You can also view it for a fee at:
---