Frackman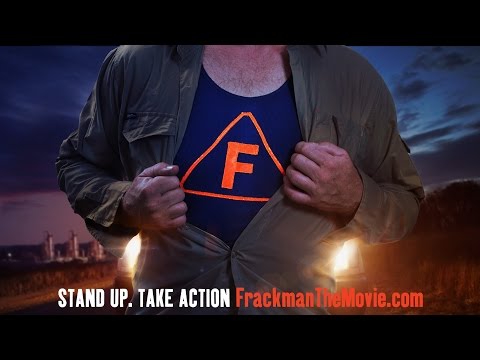 Official film description
Frackman tells the story of accidental activist Dayne Pratzky and his struggle against international gas companies.
Australia will soon become the world's biggest gas exporter as more than 30,000 wells are sunk in the state of Queensland where Dayne lives, with many requiring controversial "fracking".
He and his neighbours have unwittingly become the centre of a massive industrial landscape and they have no legal right to stop mining on their land.
Dayne embarks on a journey that transforms him from conservative pig-shooter to sophisticated global activist as the Frackman. He meets the people drawn into a battle that is crossing the ideological divide, bringing together a peculiar alliance of farmers, activists and political conservatives. Along the way Dayne encounters love, tragedy and triumph.
Notes on the film
Very down-to-earth, exciting and inspiring film, although the facts are powerful. Frackman is a very charismatic, funny and courageous figure.
The film shows the fate of Frackman's land and the landowners in Tara; how the gas wells are being drilled ruthlessly without consent and how an anti-fracking movement is being created, and how the people concerned are fighting for their rights, taking their fate into their own hands. Unfortunately not a happy ending for Frackman, but nevertheless the movie is very funny, exciting gives a very realistic insight into the topic
Technical information and screening rights...
Director(s):
Richard Todd
Script:
Sarah Rossetti, Jonathan Stack, John Collee, Simon Nasht, Trish Lake
Production:
Kate Hodges, Daniel Lake, Freshwater Pictures, Smith & Nasht, Aquarius Productions
Actors:
Drew Hutton, Dayne Pratzky, Richard Todd
Year:
2015
Duration:
90 min
Language (audio):
English
Country of origin:
Australia
Shooting Locations:
Screening rights:
Entertainment One (Australia)
More information...
Links & documents
Attachements
Availability...
This film can be watched for a fee at the top.
Further reviews
Inspiration comes in many forms. "Frackman" is one of them. – Josh Fox, director of Gasland
Best Film – Byron Bay International Film Festival 2015
Electrifying! – The Guardian
---