Food, Inc.
You'll never look at dinner the same way again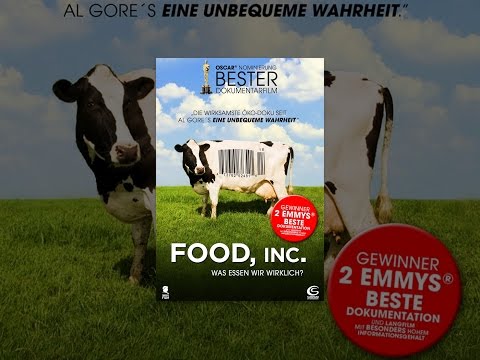 Official film description
"Food, Inc." lifts the veil on America's food industry, exposing how the nation's food supply is now controlled by a handful of corporations that often put profit ahead of consumer health, the livelihood of the American farmer, the safety of workers and our own environment. 'Food, Inc.' reveals surprising and often shocking truths about what we eat and how our food is produced.
Notes on the film
"Food, Inc." doesn't offer any new information, but it gives a good overview of the issues related to food production. At the same time, the wide variety of topics covered makes it impossible for the film to go into any depth. All in all, it is a thought-provoking film which leaves us asking ourselves why hardly any conventionally produced food can be consumed without hesitation.
Since "Food, Inc." focuses mainly on the US market and lifestyle, it can't be applied one to one to Switzerland. Still, its message is universal: Start by changing your own habits and select the products you buy carefully.
Rating from our film jury
An entertaining, intelligent and inspiring film which provides a good overview of the problem areas related to food production and encourages us to think.
"Food, Inc." explains the correlations in the food industry very clearly and, thanks to the high quality of research and documentation, very convincingly. However, the film reveals hardly any new information and barely goes into any depth. The topic of food production affects us all directly, since it concerns our basic existence. "Food, Inc." highlights this link and shows better options and relevant examples.
Based on a large number of well-explained facts and examples, "Food, Inc." shows how much we influence the earth's system; it remains objective most of the time and avoids exaggeration.
"Food, Inc." offers a global perspective and appeals to our sense of responsibility towards ourselves and towards others. However, the film does not involve the audience on the emotional level to any great extent.
The structure of the film is clear, but the level of tension remains the same throughout. Nevertheless, the plot flows; the film captures the audience's full attention and doesn't allow their thoughts to wander. Most of the pictures and scenes don't show anything new, but they are meaningful and of high quality. Editing and soundtrack are good; the camera work is ok.
Technical information and screening rights...
Director(s):
Robert Kenner
Script:
Robert Kenner, Elise Pearlstein, Kim Roberts
Production:
Robert Kenner, Participant Media, Elise Pearlstein, Dogwoof Pictures, River Road Entertainment
Music:
Mark Adler
Actors:
Michael Pollan, Eric Schlosser, Patricia Buck, Diana DeGette, Vince Edwards, Phil English, Gary Hirshberg, Larry Johnson, William P. Kealey, Barbara Kowalcyk, Richard Lobb, Carole Morison, Gonzalez Family, Moe Parr, Eduardo Peña, Stephen R. Pennell, Michael Renov, Eldon Roth, Troy Rousch, David Runyon, Joel Salatin, Rosa Soto, Allen Trenkle
Year:
2008
Duration:
93 min
Picture format:
16:9
Our age recommendation:
16
Language (audio):
German, English
Language (subtitles):
German
Country of origin:
United States
Shooting Locations:
United States
Screening rights:
Tiberius Film GmbH (Switzerland, Germany)
Availability...
Buy DVD
You can also view it for a fee at:
Further reviews
We have chosen slaughter. We have chosen war. That's the truest version of our history of eating animals. – Jonathan Safran Foer (Eating Animals)
An appeal to the people: yes, we can! – Tagesspiegel
Don't take another bite till you see Robert Kenner's "Food, Inc.", an essential, indelible documentary that is scarier than anything in the last five Saw horror shows. – Rolling Stone
It felt like it would have been easier to penetrate the Pentagon than to get into a company that makes breakfast cereal. – Elise Pearl
It's not a pretty picture. But 'Food, Inc.' is an essential one. – Philadelphia Inquirer
A mind-boggling, heart-rending, stomach-churning expose on the food industry. – San Francisco Chronicle
Essential viewing. – Los Angeles Times
A scary movie that's also funny, touching and good for you. – Baltimore Sun
"Food, Inc." is hard to shake, because days after you've seen it, you may find yourself eating something – a cookie, a piece of poultry, cereal out of the box, a perfectly round waxen tomato – and you'll realize that you have virtually no idea what it actually is. – Entertainment Weekly
Contaminated cow stomachs and human Corned Beef: The movie "Food, Inc." puts the horror of the US food in mind. – Süddeutsche Zeitung
Rating
Overall rating
Contents
Entertainment value
Scientific & journalistic quality
Transfer of a momentum
Picture, music, craftsmanship
---