Elemental
Three Stories, Three Continents, One Commitment to Change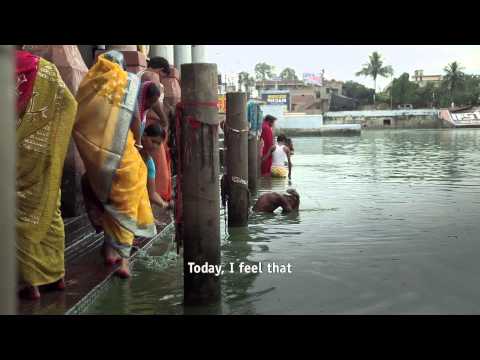 Official film description
"Elemental" tells the story of three individuals united by their deep connection with nature and driven to confront some of the most pressing ecological challenges of our time.
The film follows Rajendra Singh, an Indian government official gone rogue, on a 40-day pilgrimage down India's once pristine Ganges river, now polluted and dying. Facing community opposition and personal doubts, Singh works to shut down factories, halt construction of dams, and rouse the Indian public to treat their sacred "Mother Ganga" with respect. Across the globe in northern Canada, Eriel Deranger mounts her own "David and Goliath" struggle against the world's largest industrial development, the Tar Sands, an oil deposit larger than the state of Florida. A young mother and native Denè, Deranger struggles with family challenges while campaigning tirelessly against the Tar Sands and its proposed 2,000-mile Keystone XL Pipeline, which are destroying Indigenous communities and threatening an entire continent.
And in Australia, inventor and entrepreneur Jay Harman searches for investors willing to risk millions on his conviction that nature's own systems hold the key to our world's ecological problems. Harman finds his inspiration in the natural world's profound architecture and creates a revolutionary device that he believes can slow down global warming, but will it work?
Separated by continents yet sharing an unwavering commitment to protecting nature, the characters in this story are complex, flawed, postmodern heroes for whom stemming the tide of environmental destruction fades in and out of view – part mirage, part miracle.
Rating from our film jury
"Elemental" is of high relevance, establishes a very strong relationship to the topic of basis of life and ecological basis and conveys good connections. In a rare way, some possibilities and perspectives are shown, but with little reference to one's own life.
The film is fluid and emotionally and sensory stimulating. There is a transfer of knowledge and facts, but dynamic system developments are not taken into account and it is hardly adequately relativized. Empirical examples are largely lacking. Nevertheless "Elemental" succeeds in showing the influence of mankind on the Earth and the life.
"Elemental" is emotionally touching and arouses appreciation for the natural variety, but it does not inspire the viewer to act.
Very high quality images and scenes, some of which have never been shown, characterize "Elemental". A good cut and appropriate music complete the good cinematic performance.
Technical information and screening rights...
Director(s):
Gayatri Roshan, Emmanuel Vaughan-Lee
Script:
Gayatri Roshan
Production:
Gayatri Roshan, Emmanuel Vaughan-Lee
Music:
H. Scott Salinas, Emmanuel Vaughan-Lee
Actors:
Rajendra Singh, Eriel Deranger, Jay Harman, Chief Alan Adam, Francesca Bertone, Kelsey Chapman, Eriel Tchekwie Deranger, Jaida Deranger, Sue Deranger, Tom Gielda, Deranger Gitz, Pankaj Kr Jha, Jon Lehmann, Melina Lubicon, Frank Marshall, Kaiya McCreedy, Mata Bhakti Priyananda, Maulik Sisdia, Arun Tiwari, Alex Westlake
Year:
2012
Duration:
93 min
Picture format:
16:9
Our age recommendation:
16
Language (audio):
English, Hindi
Language (subtitles):
English
Country of origin:
United States
Shooting Locations:
Canada, India, Australia
More information...
Links & documents
Attachements
Availability...
This film can be watched for a fee at the top.
You can also view it for a fee at:
Further reviews
An interesting view of eco-warriors at work… their efforts are duly inspiring and the related issues imposing. – Variety
Elemental is fascinating. – The Film Stage
Beautifully shot, heartbreaking, informative, and compelling. – Off to the Films
One of the top docs at Austin Film Festival. – Austin American Statesman
Rating
Overall rating
Contents
Entertainment value
Scientific & journalistic quality
Transfer of a momentum
Picture, music, craftsmanship
---