Dive!
Living Off America's Waste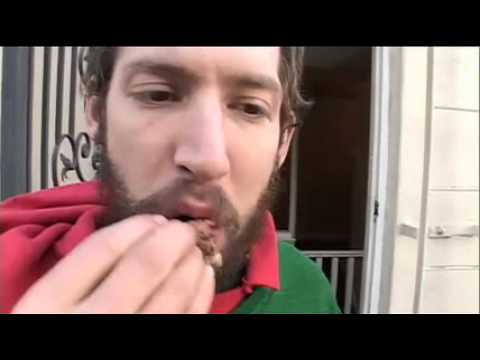 Official film description
Inspired by a curiosity about our country's careless habit of sending food straight to landfills, the multi award-winning documentary "Dive!" follows filmmaker Jeremy Seifert and friends as they dumpster dive in the back alleys and gated garbage receptacles of Los Angeles' supermarkets. In the process, they salvage thousands of dollars worth of good, edible food - resulting in an inspiring documentary that is equal parts entertainment, guerilla journalism and call to action.
Notes on the film
Although this documentary is filmed in Los Angeles and highlights the food waste issue in the United States, it is also relevant for European audiences as the food waste problem is universal. In Switzerland, roughly 40% of food is thrown away by retailers and consumers.
This film should have been edited much tighter, it is 15 minutes too long. Ideal for a grown-up audience.
Rating from our film jury
Mit dem sogenannten Dump Diving, dem Fischen nach geniessbaren Lebensmitteln in Müllcontainern von Supermärkten, greift "Dive!" eine bereits bekannte Thematik auf, die aber doch äusserst relevant ist.
Der Film stellt zwar einsichtige Verbindungen zur eigenen Lebenswelt her und zeigt vorbildliche Beispiele auf, überzeugt aber eher weniger mit seiner journalistischen Leistung und Recherche. Die Interviews sind durchschnittlich, die Darstellung eher einseitig.
Wissenschaftlich vermag "Dive!" kaum zu überzeugen: Er ist zwar reich an empirischen Beispielen, Wissen und Fakten geraten dabei aber in den Hintergrund und auch Zusammenhänge werden nicht klar vermittelt.
"Dive!" ist nicht sehr spannend, teilweise sogar etwas langatmig, schafft es an der ein oder anderen Stelle aber doch zu berühren. Der Film spricht unser Verantwortungsbewusstsein an und gibt Anlass, das eigene Konsumverhalten zu überdenken, ein klarer Aufruf zum Handeln bleibt jedoch aus.
Filmtechnisch hat "Dive!" nicht viel zu bieten: Die Qualität der Bilder und der Schnitt sind genügend, die Filmmusik durchschnittlich.
Technical information and screening rights...
Director(s):
Jeremy Seifert
Script:
Jeremy Seifert
Production:
Jeremy Seifert, First Run Features
Music:
Timothy Vatterott
Actors:
Jeremy Seifert
Year:
2010
Duration:
42 min
Our age recommendation:
12
Language (audio):
English
Language (subtitles):
French, English, Spanish
Country of origin:
United States
Shooting Locations:
United States
More information...
Links & documents
Attachements
Availability...
You can also view it for a fee at:
Further reviews
The biggest surprise: The movie will actually make you hungry. The entire point is that this is perfectly good food, dumped by groceries, often before its expiration date. Seifert's message is that too much food is shamefully going to waste. – The Spokesman-Review
One of the film's great strengths is that it offers a solution, and that is simply to stop wasting food. – BioCycle Magazine
Rating
Overall rating
Contents
Entertainment value
Scientific & journalistic quality
Transfer of a momentum
Picture, music, craftsmanship
---