The Devil We Know
The Chemistry of a Cover-up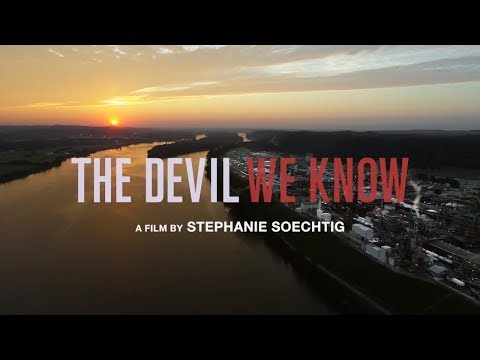 Official film description
Unraveling one of the biggest environmental scandals of our time, a group of citizens in West Virginia take on a powerful corporation after they discover it has knowingly been dumping a toxic chemical - now found in the blood of 99.7% of Americans - into the drinking water supply.
Notes on the film
A film about fluoropolymers (PFAS), carcinogenic substances used in the production of Teflon and liquid-repellent surfaces. Thrilling documentary with an alarming message.
Technical information and screening rights...
Director(s):
Stephanie Soechtig
Script:
Mark Monroe, Stephanie Soechtig
Production:
Stephanie Soechtig, Josh Kunau, Carly Palmour, Kristin Lazure
Music:
Brian Tyler
Actors:
Sue Bailey, Bucky Bailey, Ken Wamsley, Ken Cook, Glenn Evers, Gerald Kennedy, Joe Kiger, Harry Deitzler, Jimmy Columbo, Mike McCabe, Sharon Lerner
Year:
2018
Duration:
88 min
Picture format:
16:9
Our age recommendation:
16
Language (audio):
English
Language (subtitles):
English
Country of origin:
United States
Shooting Locations:
United States
Screening rights:
Atlas Films ()
More information...
Links & documents
Attachements
Availability...
You can also view it for a fee at:
Further reviews
"The Devil We Know" is a riveting tale of long-term irresponsibility and injustice. – Variety
A blood-boiling eco-doc whose story is far from over… The doc will agitate on the fest circuit, and likely prompt more than a few viewers to toss their Teflon pans into the trash. – The Hollywood Reporter
Sundance Film Festival Director John Cooper says "The Devil We Know" is a film that could have a worldwide impact. – IndieWire
---