Death by Design
The Dirty Secret of our Digital Addiction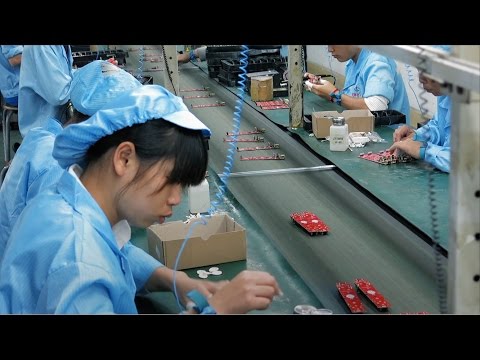 Official film description
Consumers love – and live on – their smartphones, tablets and laptops. A cascade of new devices pours endlessly into the market, promising even better communication, non-stop entertainment and instant information. The numbers are staggering. By 2020, four billion people will have a personal computer. Five billion will own a mobile phone.
But this revolution has a dark side, hidden from most consumers. In an investigation that spans the globe, filmmaker Sue Williams investigates the underbelly of the electronics industry and reveals how even the smallest devices have deadly environmental and health costs. From the intensely secretive factories in China, to a ravaged New York community and the high tech corridors of Silicon Valley, the film tells a story of environmental degradation, of health tragedies, and the fast approaching tipping point between consumerism and sustainability.
Rating from our film jury
"Death by Design" is a highly relevant film which demonstrates a clear connection to our every-days. E-waste is a relatively under documented topic making this film even more newsworthy. The journalistic research is broad and the film has good documentary quality.
The film has a strong relationship to life and environmental damage. The transfer of knowledge is followed through well and the facts are clear. The demonstration of the influence of man on the earth is rich due to the many empirical examples.
The film speaks of a broad sense of responsibility and arouses a planetary perspective in which it promotes self-responsibility.
"Death by Design" has a logical structure and is consistently entertaining. Footage, cut and music are good.
Technical information and screening rights...
Director(s):
Sue Williams
Script:
Sue Williams
Production:
Sue Williams, Hilary Klotz Steinman
Music:
Paul Brill
Actors:
Kimberly Prather, Darrin Magee, Paul Maher, Luke Soules, Kyle Wiens, Linda Greer, Richard Clapp, Yvette Flores, Ma Jun
Year:
2017
Duration:
73 min
Our age recommendation:
12
Language (audio):
English
Language (subtitles):
German, French, English
Country of origin:
United States
Shooting Locations:
China, United States
Screening rights:
Bullfrog Films ()
More information...
Links & documents
Attachements
Availability...
Buy DVD
This film can be watched for a fee at the top.
You can also view it for a fee at:
Further reviews
Vital. Provocative in its focus on giant American corporations. – The Hollywood Reporter
You won't look at your iPhone in quite the same way again after viewing Sue William's thoughtful documentary. – The Seattle Times
Both jaw-dropping and heartbreaking, Death by Design forces the viewer to reconsider their whole approach to technology. – Aesthetica Magazine
Next time you're craving the latest smartphone, watch "Death by Design" instead. – Seattle Business Magazine
Rating
Overall rating
Contents
Entertainment value
Scientific & journalistic quality
Transfer of a momentum
Picture, music, craftsmanship
---