Das liebe Rindvieh
About cows with horns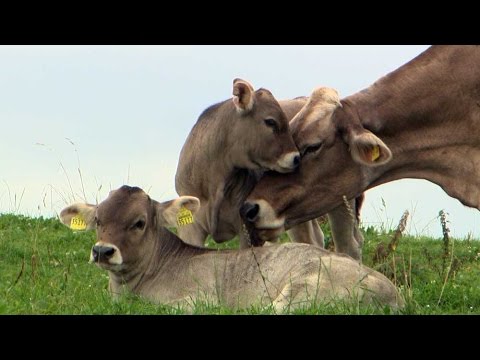 Official film description
Three dairy farmers have been rethinking their way of farming and now oppose what they had been taught so far. Their cows should be kept species-appropriate and should above all live a "horned" life. Not only the cows benefit from such a change, but also the farmers feel better with their rediscovered closeness to nature.
"I want to be a farmer again, previously I was a destroyer", Franz-Josef Kögel says while petting his cows. "Before I changed the way of farming, I used to demand high performances of my cows and locked them up in the cowshed all year round. I stuffed them with feed pellets and drugs, and dehorned them - until they got sick." Franz-Josef Kögel completely changed everything - himself and his cattle: daily grazing, only grass and hay, and no more dehorning. It is true that they now give less milk but they are healthy and live longer. More and more farmers in the Allgäu region think and act this way and turn their backs on high performance dairy farming.
The families Schwärzler and Josef Notz are as well fighting against the cruel dehorning. Conditions of keeping and living should be adapted to the animals and not vice versa.
Even vets, such as veterinarian Dr. Rupert Ebner from Neuburg, refuse to dehorn the cattle just to jam more animals into one cowshed. Great views - hopefully not only for the Allgäu region, where again you can see cattle with horns on the pastures.
Further reviews
What makes the film just as lovable as credible is that nobody points the finger at the farmers from the outside, but that the very personal experience of three grounded farmers from the Allgäuer region are the focus of the film. That definitely stimulates thought! – Allgäuer Bauernblatt
Hardly anyone won't discover a passion for cattle while watching this film: it shows in a poetic, almost picturesque way, how farmers find their way to an ethic animal farming that both sides benefit from - animals as well as humans. – Gentechnikfrei 21
Stop dehorning cattle!, could be the key message of this film. – Unabhängige Bauernstimme
This Co-Production with Bayerischer Rundfunk is not only an informative documentary. The farmers speak from the bottom of their heart and show their respect for the environment and the animals, convinced and undisguised. Director Bertram Verhaag does not only rise hope with this documentary, but also makes viewers – that didn't bother about cowhorns before – happy, by showing them this truly happy cows. – Kulturzentrum Linse
Technical information and screening rights...
Director(s):
Bertram Verhaag
Script:
Bertram Verhaag
Production:
DENKmal-Film Verhaag GmbH
Year:
2013
Duration:
45 min
Language (audio):
German
Language (subtitles):
French
Country of origin:
Germany
Our age recommendation:
14
Screening rights:
DENKmal Film Verhaag GmbH ()
More information...
Availability...
---