Darwin's Nightmare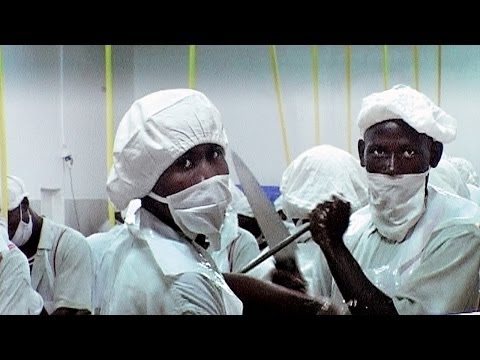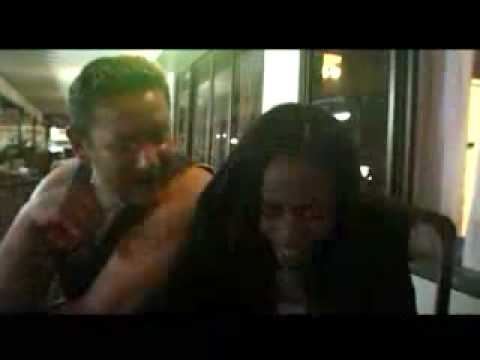 Official film description
Forty years ago, a voracious predator was introduced into the waters of Tanzania's Lake Victoria where it quickly extinguished the entire stock of native fish.
Its ecological impact aside, the Nile Perch became highly prized for its tender, plump fillets, hardly meeting the demand at elegant 4-star European restaurants. Huge, empty foreign cargo planes land to export the lake's gourmet bounty, taking out 55 tons of processed fish daily. In their wake, they leave starving villagers to scrounge a meal out of the discarded fish heads and rotting carcasses.
With massive epidemics, raging civil wars, crime, homelessness, and drug-addicted children, the question becomes: what do the reportedly "empty" planes deliver to this destitute community? The answer is as shocking as it is devastating, and Darwin's Nightmare becomes a nightmare for all mankind.
Notes on the film
"Darwin's Nightmare" is relentless in showing what many other finger-wagging productions conceal. Without commentary, the film shows how ordinary people, like you and I, who are open hearted, generous, and somewhat naive at the Christmas charity collection booth. But this documentary is so much more than simply exposing misery or pity.
This film reveals the hidden truths, quite simple but at the same time subtle. Those people who do not receive the charitable donations are heard. What really happens to charitable aid? Who reaps the profits? For anyone who owns a television, this film should be compulsory.
Technical information and screening rights...
Director(s):
Hubert Sauper
Script:
Hubert Sauper
Production:
Hubert Sauper, Edouard Mauriat, Antonin Svoboda, Martin Gschlacht, Barbara Albert, Hubert Toint, Mille et une productions, coop99 filmproduktion, Saga Film
Year:
2004
Duration:
107 min
Our age recommendation:
16
Language (audio):
English
Language (subtitles):
German, French
Country of origin:
Austria, France, Belgium
Shooting Locations:
Tanzania
Screening rights:
LookNow! (Switzerland) | Ascot Elite Home Entertainment AG ()
More information...
Links & documents
Attachements
Further reviews
A snap-frozen, weirdly skewed nightmare. – Der Tagesspiegel
Breathtaking cinema. – Jury Wiener Filmpreis
Exciting like a thriller, compelling like a crime film, moving like a melodrama. Definitively a must see. – Ouest France
There are images here that have the terrifying sublimity of a painting by El Greco or Hieronymus Bosch: rows of huge, rotting fish heads sticking out of the ground; children turning garbage into makeshift toys. This merciless and likewise shocking movie shows the ugly head of globalization. – New York Times
Hubert Sauper shows his intention never with ostentation. His ability to listen and his empathic – but never condescending – look evoke attention and admiration. – Studio Magazine
The West's plundering of the natural resources of Third World countries may not be a new story, but Austrian director Hubert Sauper's compelling documentary succeeds in revealing the subject in a memorable new light. – BBC
---