Cowspiracy
The Sustainability Secret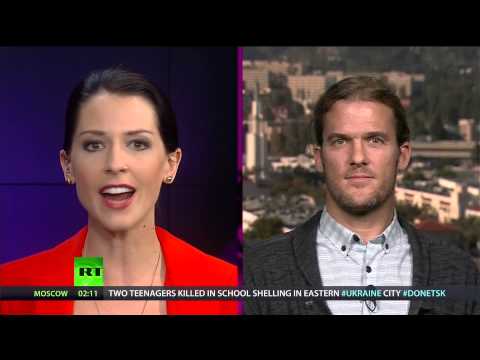 Official film description
"Cowspiracy: The Sustainability Secret" is a groundbreaking feature-length environmental documentary following intrepid filmmaker Kip Andersen as he uncovers the most destructive industry facing the planet today – and investigates why the world's leading environmental organizations are too afraid to talk about it.
Animal agriculture is the leading cause of deforestation, water consumption and pollution, is responsible for more greenhouse gases than the transportation industry, and is a primary driver of rainforest destruction, species extinction, habitat loss, topsoil erosion, dead zones in the oceans, and virtually every other environmental ill. Yet it goes on, almost entirely unchallenged.
As Andersen approaches leaders in the environmental movement, he increasingly uncovers what appears to be an intentional refusal to discuss the issue of animal agriculture, while industry whistleblowers and watchdogs warn him of the risks to his freedom and even his life if he dares to persist.
As eye-opening as "Blackfish" and as inspiring as "An Inconvenient Truth", this shocking yet humorous documentary reveals the absolutely devastating environmental impact large-scale factory farming has on our planet, and offers a path to global sustainability for a growing population.
Notes on the film
"Cowspiracy" is really a must see, but the parts about water consumption are misleading because they are based on the concept of the virtual water footprint.
If water is used, there has to be a discernement where the water is from (rain, rivers, groundwater or fossil water), how much energy there was needed in order to make it usuable and if it gets polluted, how long the pollution lasts - is it an amount and a concentration that the ecological system still can tolerate or is it too much?
Besides the misleading concept of the virtual water footprint there are several numbers and statistics in the movie that are criticized by experts. On our blog we have an in-depth analysis (Article only available in German).
Nevertheless, in most of the countries the animal industry is using and polluting catastrophically more water than the ecology can bear.
Rating from our film jury
"Cowspiracy" highlights the massively relevant subject of livestock conservation, creates an impressive connection to one's own life, and a has a strong draw to respecting the basis of life. The film occupies an already well-covered topic and lacks somewhat in research and fails to be journalistically convincing. Additionally, the documentary quality is average and not well structured (see also Notes to the film) Through the course of the film, some novel methods are described.
"Cowspiracy" is fluid and entertaining, and shows in great detail the impact of humans on the planet. It fails, however, to make the appropriate relative connections. Many examples are included, but the transfer of information, facts, and connections are often crossed. Much of the figures should be enjoyed with a grain of salt.
"Cowspiracy" is directed for your emotions and has a clear call-to-action feel. The film teaches responsibility to oneself as well as to others, but does not relate to the greater whole.
Although the quality of the visuals is not outstanding, the film has a good content reference. "Cowspiracy" is structured logically, with an even tension, pleasant cut-techniques, average camera control and suitable music.
Technical information and screening rights...
Director(s):
Kip Andersen, Keegan Kuhn
Script:
Kip Andersen, Keegan Kuhn
Production:
A.U.M. Films und First Spark Media, Kip Andersen, Keegan Kuhn
Music:
xTrue Naturex
Actors:
Lauren Ornelas, Michael Pollan, Lindsey Allen, Lisa Agabian, Manucher Alemi, Will Anderson, Deniz Bolbol, Heather Cooley, Kamyar Guivetchi, Susan Hartland, Michael Klaper, Howard Lyman, Demosthenes Maratos, Chad Nelsen, Ann Notthoff, Richard Oppenlander, William Potter, Leila Salazar, Geoff Shester, Kirk R. Smith
Year:
2014
Duration:
85 min
Our age recommendation:
14
Language (audio):
German, English, Spanish, Portuguese
Language (subtitles):
Japanese, German, French, English, Italian, Spanish, Swedish, Bulgarian, Polish, Portuguese, Russian, Hindi, Arabic, Dutch, Estonian, Lithuanian , Norwegian, Mandarin
Country of origin:
United States
Shooting Locations:
United States
Screening rights:
A.U.M. Films & Media ()
Availability...
Buy DVD
This film can be watched for free at the top.
You can also view it for a fee at:
Further reviews
"Cowspiracy" really makes one connect the dots. It's an undeniable, statistical tour-de-force! – Shaun Monson ("Earthlings")
Andersen pulls no punches and makes no apologies: The future of our planet is being destroyed by this industry. Hard to argue with the data. – The Huffington Post
A Documentary that will rock and inspire the environmental movement. – Darren Aronofsky ("Noah")
"Cowspiracy" may be the most important film made to inspire saving the planet. – Louie Psihoyos ("The Cove")
A fresh take. Few films are brave enough to tackle a topic this controversial. – Examiner.com
"Cowspiracy makes clear why it is right. But it makes also clear why there will be no change concerning meat consumption: Because it is so much easier to blame offroaders. – Basler Zeitung
Cowspiracy makes a lot of the environmental groups' reps squirm in their seats. It explains exactly why everyone—especially people who care about the environment — should go vegan. – Peta
Rating
Overall rating
Contents
Entertainment value
Scientific & journalistic quality
Transfer of a momentum
Picture, music, craftsmanship
---