Bulb Fiction
The Truth behind the Energy-Saving Lightbulb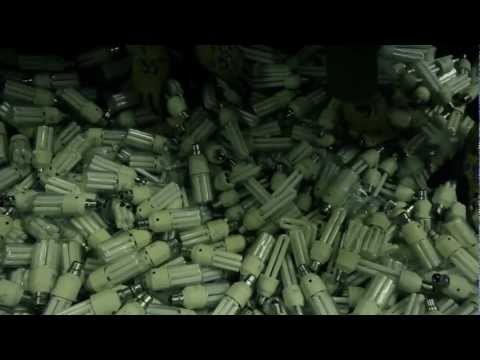 Official film description
In 2007, Greenpeace had 10,000 light bulbs destroyed in front of the Brandenburger Tor in Berlin with a road roller. This action could not have been possible with energy-saving lamps: the mercury contained in 10,000 compact fluorescent lamps is enough to contaminate 50 million liters of drinking water - apart from the acute health hazards for activists and spectators.
Let's save energy, whatever the cost. The European Commission in Brussels banned incandescent light bulbs and forced all EU citizens to buy compact fluorescent lamps containing mercury. The documentary "Bulb Fiction" shows, why these measures marketed as "win, win, win"-situation by the industry, public policy officials and NGOs turned out to be expensive, a health hazard and questionable for citizens.
As of September 2009, incandescent bulbs with 100W and more are prohibited, as from September 2011, the 60W lamps disappear, and from September 2012 there is no longer a single bulb in the EU. High-voltage halogen lamps are prohibited from autumn 2016 onwards.
How could it come to this?
Notes on the film
The making of this movie is great, in terms of content it settles unfortunately mostly in the area of propaganda and conspiracy theories. We can not say whether the filmmakers simply did not have the ability to investigate facts accurately and truthfully, or just wanted to drive a campaign. Reading through some criticism of the film, one is frightened by the amount of distortions in this film, which are however very difficult for the laity to recognize. This is why this film is by no means recommended by "Films of the Earth". Only as a puzzle task for experts to find out what is wrong.
The discussion about true energy efficiency, gray energy, too fast "solutions" and the influence of corporations on laws is not per se bad, on the contrary. However, therefore a very high differentiation is necessary.
In the film, the facts about mercury, EU Commission procedures, CO2 emissions certificates and proportionality are not shown correctly. Current developments such as LEDs are not mentioned, other alternatives to incandescent lamps such as halogen lamps ignored.
The "experts" presented are in reality often none or very controversial. A presented physicist occur embarrassed beginners' errors, which the makers did not even check.
An interviewed person has not been informed that their comments are also used in the off. This is a breach of trust and a serious foul for a filmmaker.
Conclusion: cinematically good, content irresponsible.
Rating from our film jury
This film certainly has some good stuff in it, but unfortunately equally propagandistic elements and is partly dubious. The film jury advises against the use of this film.
Technical information and screening rights...
Director(s):
Christoph Mayr
Script:
Christoph Mayr
Production:
Thomas Bogner, Neue Sentimental Film Austria AG, Daniel Zuta, Daniel Zuta Filmproduktion, FunDeMental Studios
Music:
Andreas Lucas
Actors:
Gordon Brown, Andris Piebalgs, Mahi Sideridou, Per Stoltz, Christian Laus, Joachim Mutter, Gary Zörner, George Steinhauser, Christoph Seidel, Gad Giladi, Max Otte, Sigmar Gabriel, Markus Krajewski, Helmut Höge, Holger Krahmer, Dieter Binninger, Wolfgang Herter, Wolfgang Maes, Alexander Wunsch, Macy Shaw, Kevan Shaw, Alfred Wacker, Hans-Jürgen Hentschel, Klaus Stanjek, Werner Wiesner, Ravi Agarwal, Krishan Ansari, Shankar Rehmani, Deepak Singh, Ryan McEwan, Christian Ludwig, Craig Thompson, Andrew Makison, Jeanne Morton, Marlene Holzner, Andreas Löschel, Siegfried Rotthäuser, Gunther Gaigg, Rudolf Hannot
Year:
2011
Duration:
96 min
Picture format:
16:9
Our age recommendation:
16
Language (audio):
German
Language (subtitles):
German
Country of origin:
Germany, Austria
Shooting Locations:
Germany, China, Japan, India, Sweden, Belgium, United Kingdom, Cuba
Screening rights:
Thimfilm (Austria) | farbfilm verleih GmbH ()
More information...
Links & documents
Attachements
Availability...
You can also view it for a fee at:
Further reviews
It's a matter for the angry citizien. – Stern
Awaking documentairy on the misuse of authority in the European Union and the greed of gain. – Cinema
It is a pity that "Bulb Fiction" has not really succeeded in decoupling beliefs, but the documentary ultimately wants to present a movement for the reintroduction of a (unfortunately, inefficient) product. Where the film is correct as stated, is in the weakness analysis and consciousness formation for conditions with the use of mercury and in it's disposal. – guensblog
The film "Bulb Fiction" is likely to spread fear among the amateurs and represents the introduction of energy saving lamps as a crime of sinister lobbies to the consumers and the environment. [...] The fact that the media used them in a row shows a blatant failure of the majority journalistic guild. – Dr. Rüdiger Paschotta, RP-Energie-Lexikon
---