Bugs
Will eating insects save our Earth?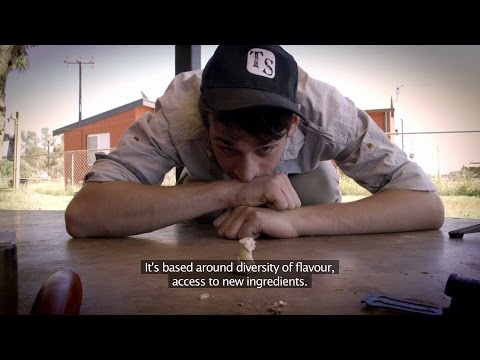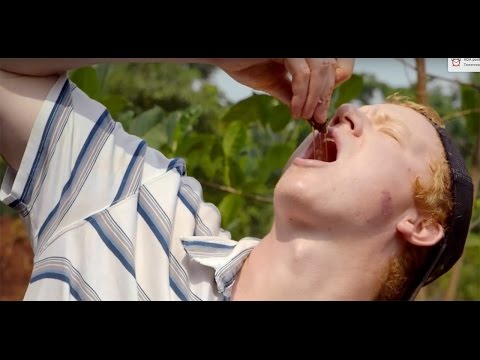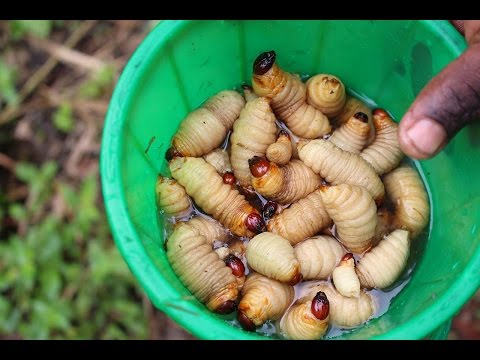 Official film description
For the past three years a team from Copenhagen-based Nordic Food Lab made up of chefs and researchers Josh Evans, Ben Reade and Roberto Flore have been travelling the world to learn what some of the two billion people who already eat insects have to say. Nordic Food Lab is a self-governing non-profit institution, stated jointly by René Redzepi, head chef of noma and gastronomic entrepreneur Claus Meyer.
In "Bugs", film director Andreas Johnsen follows them as they forage, farm, cook and taste insects with communities in Europe, Australia, Mexico, Kenya, Japan and beyond. During their journey they encounter everything from revered termite queens and desert-delicacy honey ants to venomous giant hornets and long-horned grasshoppers trapped using powerful floodlights, that sometimes cause their catchers temporary blindness.
Insects as food is a hot topic. Particularly over the last few years, since the UN recommended edible insects as a resource to combat world hunger, they have been heralded for their taste by cooks and gastronomes, for their low ecological impact by environmentalists, and for their nutritional content by public health scientists. It would seem that insects are the new superfood that will fix all our problems of global food security.
Are insects a mirror that reflects our broken food systems, or the silver bullet that will fix them? If industrially produced insects become the norm, will they be as delicious and as beneficial as the ones in diverse, resilient ecosystems and cuisines around the world? And who will actually benefit as insects are scaled up?
Notes on the film
The film is full of animal cruelty. The first insect-critical film.
Message: Problem is not the production, but the distribution, market and power structures, if the same paradigm is applied as hitherto. In addition, as far as health is concerned, we already have an over-consumption of animal protein.
Rating from our film jury
This film is well researched, intelligent and is average in terms of documentary quality. The relaying of facts and data is adequate and the film uses empirical examples to support the narrative. The film is follows a logical unfolding at a steady pace.
This film presents insects as an alternative source of protein (to reduce the amount of 'traditional' protein being consumed). However, this film fails to dive into the ethics of an insect-protein diet and does not clearly explain how it would be sustainable, thus scoring quite low on neutrality and depth.
Most of the scenes will be something previously unwitnessed for the viewer but nonetheless this film can resonate with all audiences because it is entertaining and emotionally refreshing. The footage is innovative and related well to the substance of the documentary.
Technical information and screening rights...
Director(s):
Andreas Johnsen
Production:
Sigrid Dyekjær, Danish Documentary, Rosforth Films
Actors:
Ben Reade, Josh Evans
Year:
2016
Duration:
73 min
Our age recommendation:
16
Language (audio):
English
Country of origin:
Denmark
Shooting Locations:
Denmark, Kenya, Japan, Netherlands, Mexico, Italy, Australia, Norway, Peru, Uganda
Screening rights:
Autlook Film Sales ()
Availability...
This film can be watched for a fee at the top.
Further reviews
A thought-provoking doc for adventurous foodies and environmentalists alike. – Hollywood Reporter
"Bugs" is one of most compelling documentaries about food in the past few years. It's part travel diary, part culinary exploration, part political conversation starter. – John Wedemeyer, Mxdwn
"Bugs" succeeds in eliminating the "EEEWWW" from its topic. – 4 of 5 stars, The Upcoming
... take a few deep breaths, open your mind, and let "Bugs" crawl their way up to your plate. You may view things differently. – CorrientePlatina
This aspect of "Bugs" – its willingness to push at questions that often lie beneath the surface of entomophagy-based discourse – really appealed to me. – Barbara J. King, NPR
Rating
Overall rating
Contents
Entertainment value
Scientific & journalistic quality
Transfer of a momentum
Picture, music, craftsmanship
---