ʻĀina
That Which Feeds us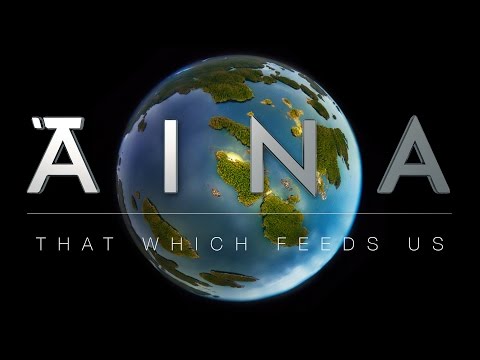 Official film description
"ʻĀina" (pronounced "eye-nah") means, "that which feeds us" in the Hawaiian language. The film highlights a simple yet effective path for addressing some of the most pressing environmental and health crises facing the island of Kauai - and the entire world. That may sound like an outstanding claim, but as AINA vividly illustrates, such is the power of agriculture and consumer choices for people and the planet.
"When we look at agriculture globally, it is the largest interface between humans and the environment. Agriculture is either going to make us or break us." --Don Heacock, Biologist, from ʻĀina
Further reviews
Detailing an inspiring message about the connection between all living beings, our duty to look after one another, and how we can all make positive choices everyday, "ʻĀina" is one film that will change your outlook on global food production and agriculture forever. – Claudia Hirschberger, Republic of Everyone
"ʻĀina" is a moving, powerful film. Come immerse yourself in the traditional Hawaiian perspective, which is that of being respectful stewards of the land in responsible relationship with all that lives. It just might transform your vision of what's necessary for our future to be a good one. – Sam Bailey, Hundred Givers
Staff Pick – Wild & Scenic Film Festival 2016
This film explores how Kauai has recently been used as a place for major corporations to test pesticides and genetically modified crops. "ʻĀina" vividly illustrates the power these agricultural giants are having on our food systems. – James Colquhoun, Food Matters
Technical information and screening rights...
Director(s):
Dave Mossop, Josh Thome
Actors:
Sabra Kauka, Don Heacock, Kawika Winter
Year:
2015
Duration:
22 min
Language (audio):
English
Country of origin:
United States
Shooting Locations:
United States
More information...
Availability...
This film can be watched for a fee at the top.
You can also view it for a fee at:
---